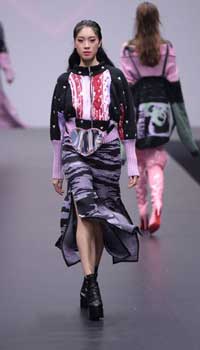 The four-day fashion extravaganza, Centrestage, organised by the Hong Kong Trade Development Council (HKTDC), concluded successfully on September 9. It featured more than 210 fashion brands from 22 countries and regions, showcasing latest brands and designer collections. The show attracted 8,500 buyers from 73 countries and regions. Buyers from Thailand, Vietnam, Japan, Singapore and Indonesia increased significantly, and Asian buyers accounted for nearly 40 per cent of the total buyer attendance.
Benjamin Chau, Deputy Executive Director, HKTDC, points out "Centrestage is an ideal promotion and launch platform for Asian fashion brands and designers. In its sophomore edition, Centrestage continued to be a focus of attention for Asia's fashion industry. The event attracted many international fashion brands and buyers, particularly those keen on developing Asian markets. Many up-and-coming local designers also staged fashion shows during the event to showcase Hong Kong's creative designs to buyers and media from around the world."
A great knowledge sharing platform
A number of master sharing sessions were held during Centrestage. At one of the sessions, Jean Colin, VP- global expansion, fashion division, Samsung C&T Corporation, which represents the Korean brand JUUN. J, analysed the brand's rise to global fashion prominence. Colin said Juun. J realised his dream of establishing his own brand by partnering with Samsung C&T. The company put together a team to help the brand find its market position, and supported Juun. J to join overseas Fashion Week events, she said.
A perfect launch platform
First-time exhibitor Hausie Showroom, a newly established fashion Hong Kong-based company that represents more than 20 international brands was among the exhibitors. Vivian Pang-Williams, Founder, Hausie Showroom, says in their debut participation, they wanted to showcase a variety of fashion collections, jewellery and bags for over 17 brands they exclusively distribute. The company received positive feedback and found about 20 potential customers from different markets, including Galeries Lafayette from France, Aishti Group from Lebanon, and multi-brand stores from the Chinese mainland.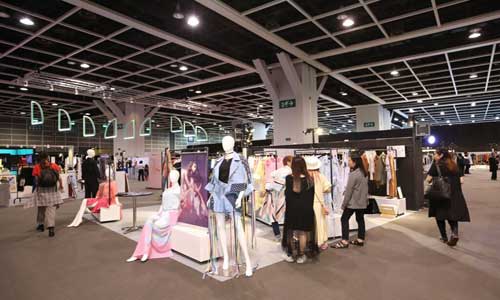 Hong Kong brand ASTRA Tailoring also launched a new menswear label at Centrestage. Design director Ayumi Kwan and partner Angus Tsui said the label's zero-waste design and emphasis on sustainability attracted buyers from the Chinese mainland, Singapore, Thailand and Japan. Of those enquiring about their products, about five to 10 were serious buyers, with some fabric suppliers also approaching them to explore cooperation.
Hong Kong's fashion in the spotlight
Nicholas Chong, CEO, fashion retail chain YFS, which operates 138 stores in Malaysia, said the company has already identified several Hong Kong designer brands for cooperation. They include: fashion jewellery by CIAO and casual wear for ladies by FromClothingOf. Menswear collections by Hong Kong designer Angus Tsui are also appealing. Chog will explore collaboration to create a new menswear series for the HK$1,000-HK$4,000 retail price market.
Buyers found a great deal of business at the show. Buyer Catherine Coppin was willing to place order with Ffixxed Studios after witnessing its unique collection. Other potential brands such as Zero Design and Garance from Korea, and Kevin Ho, House Of V And Loom Loop from Hong Kong were also worth exploring business.
Henry Pang, buyer of Halo Designer Chic from the Chinese mainland, found some suitable Hong Kong designs at Centrestage. One of the brands was Methodology who plan to show their new 2018 spring/summer designs to Pan. The potential order is estimated between Rmb10,000 to Rmb30,000. Talks are underway with another Hong Kong brand, Anveglosa, for new fur designs for fall/winter 2018.
Cautious optimism in the air
The HKTDC commissioned an independent research agency to conduct on-site surveys during CENTRESTAGE interviewing more than 270 exhibitors and buyers to gauge their view on the outlook for the fashion industry and upcoming product trends. The survey found the industry is cautiously optimistic about sales in the coming year. More than half the respondents expect overall sales to remain steady, while about 40 per cent expect overall sales to grow. Half the respondents expect production costs or sourcing costs to stay unchanged. While nearly half of industry players surveyed expect sourcing price/production cost increases, more than 60 per cent of the respondents said they would not raise unit or retail prices, reflecting a general tendency in the industry to not transfer increased costs to customers.
In terms of markets, more than 80 per cent of respondents consider Hong Kong, Korea and Taiwan to have the best growth prospects among traditional markets in forthcoming two years, while 75 per cent respondents see Chinese mainland as the most promising emerging market. More than 40 per cent respondents favour Eastern Europe and ASEAN markets.
As for product trends in coming year, 70 per cent respondents expect womenswear to be most popular, followed by casual wear and fashion jewellery. Limited-edition collections, brand licensing products and brand crossover promotion were identified as the most prevalent product development strategies in the coming year.
In terms of sales channels, more than 70 per cent said they are engaged in e-tailing, a significant increase from previous year, which saw only over half of the respondents reporting they are involved in such business - an indication that the fashion industry is increasingly serious about e-commerce. On average, online sales account for nearly 20 per cent of the total sales revenue. The top product types sold through e-tailing are womenswear, casual wear and menswear.