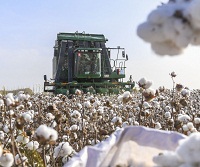 Apparel groups in the US apparel have requested US Customs and Border Protection (CPB) department to block imports of China-made textile and apparel products as they are being made by forced labor in the Xinjiang region. If approved, this order can affect US textile and clothing imports worth millions of dollars from the Xinjiang Uygur Autonomous Region (XUAR). Known as the Withhold Release Order (WRO), it would mandate goods to be re-exported or destroyed if CBP determines they were made with forced labor. Barring the use of any Xinjiang cotton in clothing shipped to the US would be an escalation of US actions expressing disapproval of forced labor and other human rights abuses in the region.
The US Commerce Department has already shortlisted around 50 Chinese operations on its Entity List for their involvement in unfair practices. Additionally, the US State Department has accused the Chinese government of engaging in forced labor by detaining over a million Uygurs, ethnic Kazakhs, ethnic Kyrgyz, and other Muslims in the XUAR.
New legislation to ban sourcing from XUAR
As per the US Agriculture Department, China grows almost 85 per cent of its cotton in Xinjiang, a coalition of union and activist group also estimates
about one fifth of all cotton garments sold in the world contain Xinjiang cotton or yarn. The cotton, yarn and fabric produced in Uygur are also used by other countries such as Vietnam, Indonesia, Cambodia, Bangladesh and Sri Lanka to make clothing.
According to the activist groups, all brands including Adidas, H&M, Lacoste, Nike, Ralph Lauren and Zara use cotton and yarn produced by factories employing forced labor in the region. Therefore, a bipartisan group of lawmakers in the US House of Representatives and the US Senate have introduced a new law mandating corporations to prove that their products sourced from the XUAR are not made with forced labor.
A risky move
In addition, the American Federation of Labor and Congress of Industrial Organizations (AFL-CIO) and several Uygur rights and anti-slavery groups have directed CBP to issue a regional WRO on cotton procured from Xinjiang. In their petition, the AFL-CIO and the other groups said, a regional WRO would compel China to either continue the persecution of the Uygur people or lose contracts worth billions of dollars from US companies and others.
However, monitoring imports worth tens of billions of dollars would be a massive task for the CBP, and require it trace the supply chain of goods that arrive in the US. As per the trade data from the US International Trade Commission, US' exports of cotton-related products to China rose by 62 per cent in the first seven months of the year, and 206 per cent in July alone. If the US bans China's textile products, China would retaliate by stopping imports of US cotton, leading to disastrous effects results.
American firms are already stuck due to the Treasury Department's recent sanctioning of the Xinjiang Production and Construction Corps (XPCC) as they have shipped hundreds of millions of dollars' worth of cotton harvesting machinery to the region, often through XPCC-linked dealerships. These companies have to extricate themselves from their dealings with the XPCC by September 30 or risk being banned.