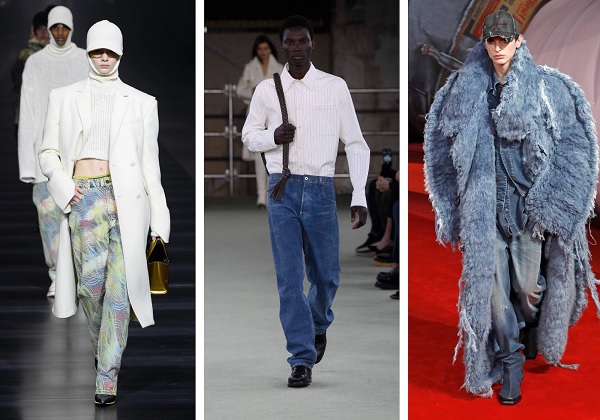 The comeback of denim was already evident during the January menswear shows and was even more pronounced during the recent Milan shows. Each designer offered their own unique interpretation of the trend, showcasing their sensitivity and taste.
Brands and designers offer their unique interpretations
Diesel, a well-established luxury denim brand, opened the Milan shows with its unique aged effects juxtaposed with tulle and flocked velvet strata mixes. The brand offered highly innovative and strong research denim pieces, encouraging self-expression and freedom, as denim has always been perceived.
John Richmond, a British designer, strongly supported the return of jeans, given his origins in the denim world. For f/w 2023/2024, he presented a wide selection of total looks that included trousers, jackets, dresses, coats, and down jackets, as well as boots, shoes, and accessories. Among the elegant attires was a black satin jacket with denim-like printed lapels. The pieces in this special party collection all looked super-ripped and heavily aged denim, but appearances can be deceiving as most of the pieces were made with silks, satin, and jerseys. Richmond explained that he photographed aged denim pieces and printed the motifs on the collection's items. He also mentioned that some pieces were made with real ripped off denim fabrics, creating a game and a challenge for consumers to recognize which denim was real and which one was just printed. The final result was incredibly chic and fresh.
Giorgio Armani's newest project, the second edition of the Armani - 10 Corso Como collection, was entirely made from denim. The new capsule combined an unmistakable style with the exploration of unexpected territories, offering a total look rich in nuances. The entire collection, from blazers and dust coats to blouses, shorts, and clean-cut trouser suits, featured denim in thin and elongated forms with supple silhouettes. The intense blue of the unwashed denim complemented the soft cognac-colored leather detailing on each garment. The look was completed with boots and the La Prima bag, also made from denim, resulting in a compact and essential wardrobe of different pieces that can be combined for different occasions.
Rocco Iannone's new Ferrari collection showcased cool interpretations of the blue cloth fabric, reinventing workwear overalls and aging the iconic fabric with fringed logos and irregular treatments that expressed the chic and exclusive world that the iconic Ferrari red car embodies.
Different fits, cuts and looser variants set trend
The trend also featured lots of different fits, often resembling pajamas, sailor-style or boyfriend cuts. Every interpretation was allowed, but looser variants in denim total looks or worn with wide blazers stolen from a man's wardrobe, as seen at Gucci and Seafarer, were popular choices. Kiton presented a drapey lucid denim business woman suit version, offering yet another interpretation of the trend.