Bypassing retailers, thousands of Chinese clothing manufacturers have been selling their products online to international consumers. As a report by the Rest of World, a non-profit tech-focused journalism outlet based in New York shows, Chinese apparel makers have evolved to cater to the desires of internet-native consumers. One of the most successful online retailers to have transformed its consumers' consumption habits into a process is Shein, known as the world's largest fashion companies.
Founded in 2012 under the name SheInside, Shein began operations by selling wedding dresses abroad from its first headquarters in the Chinese city of Nanjing. The company eventually expanded to offer apparels for women, men and children, as well as everything from home goods to pet supplies. However, its core-business remains selling clothes for women in their teens and early 20s. The company's clothes are mainly designed to be exported to overseas customers. According to Bloomberg, in 2020, Shein's sales jumped 250 per cent from the previous year to reach $10billion.
Growth also brings controversies along
Shein's fast growth also brought with it a series of controversies including accusations of theft against the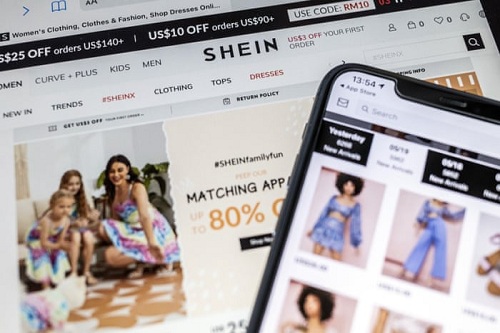 company by numerous designers. It was also denounced for selling culturally or historically offensive products, such as the Swastika necklaces. The company churns out thousands of items simultaneously through its manufacturing partners on the ground in China,. Between July and December 2021, it added anywhere between 2,000 and 10,000 individual styles to its app each day, according to data collected in the course of Rest of World's investigations.
After watching the company's rapid rise, major Chinese tech giants and newer startups are now racing to imitate it. The competition includes ByteDance and Alibaba, which are both working on e-commerce platforms targeting the same international demographic as Shein. Then there are brands like Cider, a Hong Kong-based e-commerce clothing brand backed by the Silicon Valley venture capital firm Andreessen Horowitz.
Exploitation of garment workers
Shein doesn't chase catwalk trends – rather, it often knocks off items seen on TikTok and Instagram, where hype cycles move significantly faster. It launches around 100 products in as little as 10 days. Thus pressure to produce clothes more rapidly ends up falling on Chinese garment workers, who sew products for Shein during long shifts in poorly regulated workshops, according to a report by the Chinese media site Sixth Tone.
However, the company refutes all these allegations, it says, it takes all supply chain matters seriously and is fully committed to upholding high labor standards. The company's software-driven model allows it to remain at arm's length from the labor force actually making the products on its platform. It can also avoid directly managing inventory for almost any of the products it sells, minimising the amount of goods sitting unbought in warehouses.
In August, Shein's website had 150 million visitors, 40 per cent of whom came via search, according to Similarweb, compared with 4 per cent of Zara's. On social media, the company has partnered with countless micro-celebrities, fashion bloggers and reality show contestants, Before Shein's app was banned by the Indian government last year, the company was at one point reporteldy working with about 2,000 influencers in that country alone.
Shein has become a poster child for the energy-intensive fast-fashion sector. Though the company has been criticized for its operating model, many of its rivals are watching are following suit. Its fast-fashion model keeps ticking up in speed and volume as consumers appear to adopt and discard new styles at an alarming rate and speed.