Apparel producers can win with higher levels of productivity, new opportunities and growth using inkjet print, digital front end (DFE) and production workflow technologies from Electronics For Imaging, Inc, products showcased at the recent ShanghaiTex exhibition held from November 27-30 at the Shanghai New International Expo Centre. New products on display included the EFI™ Reggiani Vogue, an industrial textile printer designed for superior-quality direct-to-textile printing in fashion applications. Building on EFI Reggiani's 70 years of experience in textile imaging, the new printer is the most-advanced, leading-edge textile product in the EFI Reggiani digital printer product line, and gives users the ability to master speed and tension to ensure the most accurate fabric handling.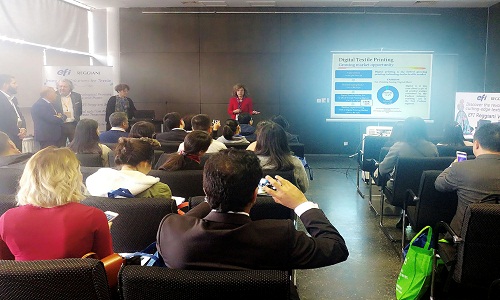 Adele Genoni, GM, EFI Reggiani, stated, "Whether it is for apparel and accessories, sportswear or footwear, the EFI Reggiani Vogue can handle it. The new printer, along with the entire EFI Ecosystem of products including Optitex 2D/3D design software, Reggiani digital printers and inks, and our newest Fiery proServer offering, create an effective, more-efficient manufacturing model for the fashion space."
Higher productivity and savings
Taking centre stage in EFI's stand at ShanghaiTex, the Vogue model is the first in a series of EFI Reggiani printers that will incorporate new electronics and best-in-class innovations for industrial textile printing. It prints at resolutions up to 2,400 dpi with 16 printing heads, 8 colours and 4- to 72-picolitre drop sizes. Using virtually any type of textile ink, it also boasts an innovative recirculation system that saves ink and reduces maintenance during machine operation and between stoppages. The recirculation system also reduces the need for specific air conditioning and humidity controls, saving energy and reducing overall usage costs.
New Fiery proServer with dedicated textile functionality
This new printer and the rest of the EFI Ecosystem incorporate the latest digital technologies for best-in- class performance. Another product making its debut at ShanghaiTex, version 6.5 of the EFI Fiery proServer DFE, can be used with all EFI Reggiani digital textile printer models and features advanced colour management and screening technology. The result for users is high-quality prints with saturated blacks, vivid colours, clean pastels and smooth gradients, without compromising fine detail designs. The DFE also provides important production tools including shrinkage correction and step-and- repeat management, plus a set of design tools to create repeats, colourways, manage seasonal pallets and create colour ranges.
ShanghaiTex attendees also got a preview of a future, cloud-based product, the EFI GO app. This advanced new tool will give users mobile access to statistics and data in their textile production operation. With the app's real-time print factory monitoring capabilities, users can better identify and track inefficiencies while staying apprised on overall manufacturing costs and performance.