Ready To Show & Virtual Fashion Tour, Italy the duo virtual concurrent events were concluded successfully recently. Held between March 16-19, 2021, the virtual events, first of its kind, were aimed at giving international apparels, accessories, textiles and leather manufacturers direct access for sourcing to major Italian and European buyers, as well as offering Fashion Collections by designers and labels of Italy and other countries.
The show featured companies 35 companies across product categories from over 25 countries, divided into three halls; Sourcing Global, Sourcing Mauritius and Fashion Collections. Over 800 registered visitors from 65 countries attended the show with exhibitors from 12 countries including Italy, France, India, the US and Latvia. Mauritius, with 11 selected exhibitors was the main attraction at the event. The visitors consisted of importers, private labels, large retailers and all other imported apparel and textiles.
The event was organized by Tortona Design & Fashion Italy, in association with FashionatingWorld.
The first day hosted a webinar under the theme "Fashion Sourcing & Trends during Challenging Times" consisting of five sessions titled, 'Mauritius: Your Partner of Choice to Source Fashion and Sustainable Apparel Products'. The session was discussion with Geerish Bucktowonsing, Executive Director, Economic Board, Mauritius. The second session, 'Buyers' Perspective: How should Companies & Countries make effective presentations?' was discussion with Claudia Carillon, CEO International Designers Network & Senior Expert Fashion Consultant and Manuela Brodersen-Horn, Fashion TV Production, Germany.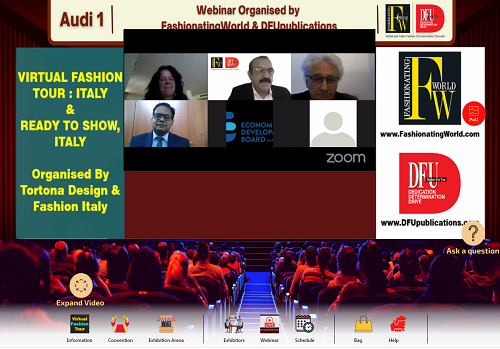 The third session titled 'India as a potential Sourcing Hub for Europe' was moderated by Sudhir Sekhri, Chairman, Export Promotion Committee, AEPC; the fourth webinar 'Changes in fashion during and after the pandemic: Prevention & Therapy' was moderated by Vittorio Giomo, Milano, Expert in Trends and Sustainable Fashion & Textiles.
The fifth session was on 'Inter-Seasonal Evolution of Current Trends- FW21-22 & SS22 'moderated by Cristina Fedriani, Owner and Director, Progetto Stile & Fashion Consultant.
Fashionatingworld alongwith DFU Publications partnered Virtual Fashion Tour Italy to organize five webinars on issues facing the global fashion industry.