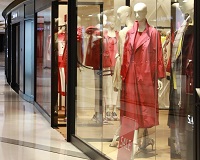 The pandemic has hugely impacted the luxury fashion industry. Brands that produced perfumes and scarves are now making hand sanitizers and masks. Luxury brands like Ralph Lauren & Louis Vuitton are making hospital gowns to be donated to frontline medical workers.
Therefore, luxury fashion sales in the first quarter of 2020, is predicted to decline by around 25 per cent year-on-year basis. Even before the start of the pandemic, China was already witnessing a decline in luxury sales. The outbreak further accelerated this decline in their key operations.
Post COVID 19, the luxury sector in China is likely to witness a seismic transformation. Transforming their business model will be a factor for brands to drive growth. However, prioritising a few key areas of their businesses will help them to mitigate the impact of the virus crisis.
Digital fashion to be the core
Post COVID -19, ecommerce will gain more importance as every brand will put digital at the centre of their operating model. They will shift to an
omnichannel strategy by converging in-store and online experiences. These brands will have to create a digital personalised experience online by either investing in ecommerce, partnering luxury e-tailers like Nordstrom & Farfetch, digitising their entire supply chain, automating operations, and adopting rental as a new revenue stream.
Some key drivers of the next industrial revolution in luxury fashion will be: leading edge technologies like augmented reality and artificial intelligence. With countries across the world imposing travel restrictions and social distancing, technologies like prototyping and sampling via 3D printing, augmented reality enabled beauty cams and virtual try on room will be the next-big-thing in digital fashion.
Brands to aim for sustainability
Consumers will look for lasting investment pieces that will force brands to be more conservative, responsible and slow on production, focusing quality over quantity. Responsible consumerism will be the new norm. For such consumers, brands will try to create timeless designs, sustainable materials, local craftsmanship, slow production cycles, fair wage for workers, reducing carbon footprints across the entire supply chain.
Strategies for marketing post pandemic
Some strategies that luxury brands will need to adopt post pandemic include: Being transparent: Post COVID 8819, brands will have to be real and start communicating with their consumers. They will have to bring out their brand's ethics along with aesthetics.
Providing virtual experiences: Another strategy that brands will have to adopt is to provide consumers with a virtual experience. They will have to partner with streaming/broadcasting services to create interesting content. For instance, H&M partnered Netflix to promote a new collection, inspired by the teenage romantic comedy "To all the boys I've loved before".
Smart discounting: As consumer spending will decrease, brands will have to offer discounts to increase. Adopting smart discounting strategies will help these brands to cut losses.
Creating attractive content: Another way brands can connect with their consumers is by creating attractive content around their niche market. Rent the Runway recently started a newsletter series on poached egg tutorials and inspirational quotes. Similarly Bonobos is sending satirical blog posts about different types of people in Zoom conference calls. So, break the stereotype and connect with your audience.
Overall, Chinese consumers represent 35 per cent of the global personal luxury goods market. Beyond consumption, Post pandemic, the industry is likely to become more customer-centric, digital and sustainable.