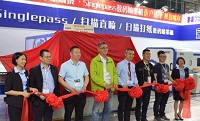 Foshan New King Time Machinery (New King Time), also known for its NKT brand of machines, sold its first 'Single Pass' textile digital machine at the just concluded edition of TPF 2017. This latest machine was bought by Suzhou Super Digital Printing Technology. The event witnessed both by domestic and foreign media and visitors at TPF, created a lot of enthusiasm and excitement about the Single pass machine.
Single pass is the latest textile digital machine, known for its speed. The machine is being seen as the next level digital technology and can be termed as a bridge technology between existing digital machines and conventional rotary machines. It is available in various widths. As of now, only a handful number of these machines are installed, perhaps less than 15 across the world. The price range of $1.0-1.6 million, is much less compared to similar Italian machines.
NKT also displayed their scanning machines which can print both on paper and fabric, with disperse; reactive ink etc, this will be put into production soone. The company is looking to set up service points in China and abroad. In 2017, NKT plans to make inroads in the textile industry with a variety of digital printing machines.