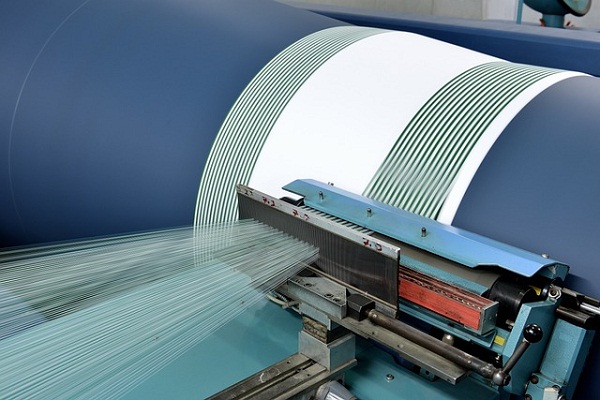 Italian textile machinery manufacturers are confident and upbeat about 2023 as the new year will be the springboard for strong future growth as it indicates healthy progress after the disruption of the last few years. As was projected, Italy's textile and garment industry made a positive turnaround in 2022 and piggy-backing its success is the related machinery sector. The global textile machinery market is valued at $29 billion in 2023 and is projected to reach $52 billion by 2033, at a CAGR of 6.1 per cent from 2023 to 2033.
Currently, Switzerland is the world's largest producer of textile machinery with 40 per cent global market share. Italy too holds a strong position as one of the main suppliers of textile machinery in the world, together with Germany, Japan, China and Switzerland. Italy's market share of world exports of textile machinery is about 11per cent. And as per Association of Italian Textile Machinery Manufacturers (ACIMIT), creativity, sustainable technology, reliability and quality are the characteristics that have made Italy a leader in manufacturing of textile machinery. There are approximately 400 companies who produce textile machines and related accessories.
ACIMIT is confident of 2023 and beyond
As per Association of Italian Textile Machinery Manufacturers (ACIMIT) the value of Italian machinery production in 2022 is expected to exceed €2.5 billion. This register is a 10 per cent increase compared to previous year. Almost 85 per cent of this value was from exports. As per ACIMIT's spokesperson, the association has forecasted a slight growth between 2023 and 2026, due to the current negative conditions prevailing worldwide and resonating across the textile and garment industry.
Italian textile machinery is certified with sustainable performance and digitally enhanced. ACIMIT is actively participating in ITMA 2023 being hosted in June in Milan, showcasing 380 Italian textile manufacturing and associated companies. At ITMA, ACIMIT will focus on selling the green-labeled and digital certified aspects of Italian machinery. ACIMIT will unveil these initiatives at a press conference on March 15, 2023.
ACIMIT goes to green-labeling machinery and digitisation
Italian textile machinery manufacturers are seriously committed to solving ecological issues that taint the textile sector. As Alessandro Zucci, President, ACIMIT told textilegence.com that "A commitment that ACIMIT has made its own by developing the Sustainable Technologies project. At the heart of the initiative is the Green Label, the document that certifies the energy and environmental performance of the machinery and summarizes it by giving a value to the carbon footprint of the machine itself. Through a survey on the Green Labels produced from 2016 to date, the quantified avoided emissions using green labeled machines are 1.2 billion tonnes of carbon dioxide equivalent, corresponding to 2,21,187 cars travelling for 35.000 km over a year."
Furthermore, Italian textile machinery is now digital ready and ACIMIT is issuing DIGITAL READY certificates, a first in the Italian textile machinery sector. As Zucchi points out, the certification is designed to simplify production process, making use of a standard language and unique data reading system that allows different types of machinery to dialogue with production systems. The certification aims to build customer loyalty while establishing virtuous link between textile machinery manufacturers and their customers.
China top importer, India among fastest growing market
Whilst Turkey, India and Uzbekistan will be the fastest growing market for Italian textile machinery in 2023, China will continue being the largest single buyer, followed by Turkey coming in second. From January to June 2022, Turkey imported machinery worth €145 million. The most favored machinery for Turkey were finishing and knitting machines. For India, Italy was the fifth largest supplier with 5 per cent market share compared to China that has a 39 per cent market share. The US is also a key importer of Italian textile machinery with about 280 active importers.