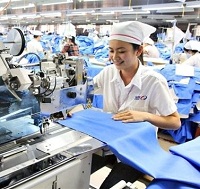 Superior quality fabrics and better experience in making high-end apparels are helping Vietnam outperform Bangladesh in apparel exports to the European Union and United States, says a Daily Star report. A 2020 research by the Centre for Policy Dialogue (CPD), notes, Vietnam fetched $2,157.90 for 100 kg of T-shirts in the EU market while Bangladesh fetched $ $1,091.50. In the US too, Vietnam's apparel exports overtook Bangladesh's shipments.
Higher compliance, human rights driving Vietnam export
Besides quality of fabrics, better prices are also driving up Vietnam's exports to these two markets, says Khondaker Golam Moazzem, Research Director, CPD. The higher quality of fabrics used by manufacturers assures them of better prices while penchant for making upscale products enhances their ranking in World Bank's ease of doing business index. Vietnamese manufacturers are also known for their higher compliance standards, protection of human rights and environmental protection practice. They mostly manufacture garments for upmarket consumers.
Another advantage is Vietnam's apparel manufacturers offer lower lead times. They can ship garments to the EU in just 30 days, while Bangladesh takes
90 days. Vietnam is also closer to Europe than Bangladesh, which makes it the most preferred destination for international retailers and brands.
Low capacity, negative image impact Bangladesh exports
Comparatively, Bangladesh apparel manufacturers suffer from low scale and capacity. Also, a lack of a deep seaport increases their business operation costs and delivery times, says AK Azad, Managing Director, Ha-meem Group. He urged manufacturers to improve the quality of products as buyers do not want to change their sources frequently due to the pandemic.
K M Rezaul Hasanat, Chairman and Chief Executive Officer, Viyellatex Group, opines, a country's image plays an important role while fixing prices. Vietnam is known for outwear garments made especially for people living in cold climates. The country also offers high-quality blazers and woven formal shirts and trousers to customers in the EU and US markets.
Bangladesh is known for basic garments like T-shirts and trousers. The country has just eight blazer making factories and very few factories for making hi-end apparels and their output volume is also low, says Kazi Iqbal, Senior Researcher, Bangladesh Institute of Development Studies.
Bangladesh's image is of a supplier of lower priced products, adds Rubana Huq, President, BGMEA. The country still manufactures cotton garments while the rest of the world has moved to man-made fabrics. It also has to cope with various demands from government, she says. As a result, the country ranks 168th in the Ease of Doing Business index amongst 190 countries and Vietnam ranks 70th.