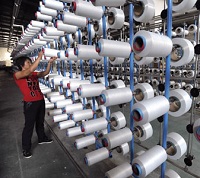 After rapid surge in 2020, demand for technical textiles in China is slowly stabilizing. Demand for surgical masks, protective clothing and related raw materials is gradually declining, slowing the industry's annual growth rate. A survey by the China Nonwovens & Industrial Textile Association (CNITA) of member enterprises shows domestic and international demand for technical textiles in China dropped 40 per cent during January-May 2021. Demand indexes for both domestic and international market dropped to 49.0 and 43.4 during the first half of the year.
They have since dropped further to their lowest levels of 31.4 and 34.8. As per a China Textile Leader report, the operating rates of 36 per cent of manufacturers dropped to 80 per cent during the period while those of 18.8 per cent dropped to 60 per cent. The operating rate of 17.6 per cent companies dropped to less than 40 per cent.
Average growth stable but profits drop
The industrial added value of enterprises above designated size in China dropped 11.9 per cent year-on-year from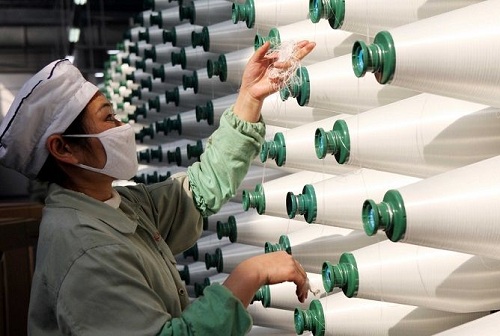 January-May 2021, shows data from the National Bureau of Statistics. However, the two-year average growth of these enterprises still reached 15.2 per cent. Their operating income also increased 0.3 per cent year-on-year to CNY 117.51 billion. On the other hand, total profit dropped 54.5 per cent to reach CNY 7.02 billion while profit rate also declined 7.2 percentage points to 6.0 per cent. The industry is still in a relatively ideal state though it is growing at a slower rate than the chemical fiber and textile machinery industry.
Around 16 per cent companies surveyed by CNITA reported 50 per cent drop in their annual profits while 64 enterprises reported 20 per cent drop. Around 40 per cent of these 64 enterprises view this as a normal adjustment against the rapid growth witnessed in 2020. They believe, it would require one to two years to get out of this round of adjustment period.
Profit margins drop by 6.2 per cent
The surveyed nonwovens enterprises also reported a 7.7 per cent drop in operating incomes and 67.8 per cent year-on-year decline in total profits. Their profit margins also declined 6.2 per cent and 11.5 percentage points year-on-year. The operating income and total profit of twine and rope (cable) enterprises above designated size increased 24.6 per cent and 43.6 per cent year-on-year respectively. Their profit rate increased 0.6 percentage points to 4.2 per cent, up by 0.6 percentage points year-on-year. Similarly, operating income and total profits of textile belts and cord fabrics enterprises above designated size surged by 28.2 per cent and 198.0 per cent year-on-year, respective while their profit rate increased by 3.3 per cent to 5.7 per cent. On the other hand, the operating income and total profits of other technical textile enterprises above designated size declined by 10.3 per cent and 53.5 per cent year-on-year, respectively while their profit rate declined by 6.0 per cent year-on-year.
Travel ban impacts technical textiles demand
Around 50.4 per cent enterprises in China recorded a drop in demand for technical textiles during the period. They attributed this decline to stagnation in global travel, which prevented them from participating in international fairs and exhibitions. Around 37.8 per cent enterprises also reported difficulties in hiring qualified workers and increase in international shipping costs.
The surveyed enterprises also reported facing external challenges like the excessively rapid increase in raw material prices. Around 52.4 per cent enterprises believe, excessive expansion in production capacity has increased competition amongst the enterprises. However, these enterprises are confident that their ability to innovate and maintain the required quality standards will help them surge ahead of competitors.