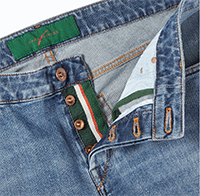 The average five-pocket jean is going through a transformation with denim brands and designers taking creativity to new levels through innovative fabrics and designs. Increasing competition from the athleisure category has made denim brands realise the need to innovate their offerings in order to stay relevant in a competitive market. As the chief industry advisor of the NPD Group noted earlier this year, women today want to wear more than just leggings and yoga pants. To inspire these women to buy new jeans, denim marketers need to find new ways to design their jeans and deliver products that appeal to their tastes.
A recent NPD Group survey reveals 364 million pairs of women's jeans were purchased in the US in the 12 months ending February 2019. Amongst all brands, Levi's is still the most favorite for one-third consumers; followed by Lee, Wrangler, American Eagle, Old Navy, Gap, Calvin Klein and True Religion.
New styles at the New York Fashion Week
Denim was also the point of discussion at the New York Fashion Week's Spring/Summer 2020 shows. At the show, the Brock Collection showcased its
wide-leg denim jeans with light and airy gowns, while Rag & Bone's introduced ultra-short denim skirts, tiny shorts, waistband-less jeans and a ragged-edged denim vest. Prabal Gurung went with denim work jackets, overalls and dresses. And Brandon Maxwell showed jeans with ripped knees and frayed bottoms, a classic denim shirt paired with leather pants, and a full-body look that paired a rolled-sleeve work shirt with matching deep blue jeans.
Unusual detailing fuels denim purchases
These shows also introduced new denim styles such as painted and sequined jeans and rompers that were showcased by the brand No Sesso at its runway show. Similarly, Alexander Wang exhibited denim shirts with leather collar and plackets, as well as blue jeans overlaid with leather and suede chaps. Kaimin showcased an adjustable-length denim skirt, jeans with metallic and embroidered appliques and denim bottoms that looked as if the pant legs were breaking away, leaving only tiny shorts. EDGII delivered extra wide-leg jeans, as well as bottoms with flyaway pant legs that split at the knee. And Alice + Olivia collaborated with designer Everard Best of the men's wear labels Murder Bravado and Who Decides War, on a collection of hand-embroidered, dyed, and distressed denim. Designers are banking these innovative styles and unusual details to keep consumers coming back for more of what the denim category has to offer.
However, despite these innovations, designers need to remember that consumers still value traditional features in their denim. As a Monitor Research reveals, 9 out of 10 consumers rank comfort, fit, quality, durability and price as being the important parameters for their denim purchase decisions followed by style and color.