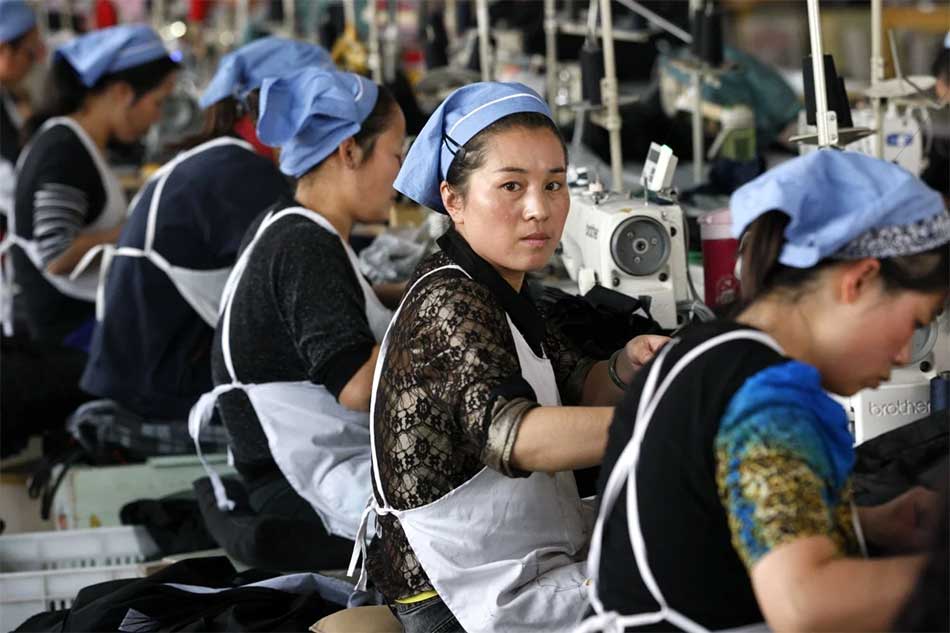 The outlook for China's textile industry is rather bleak. Nearly, 30 per cent companies have reported a loss in the first five months of this year, as per data by China National Textile and Apparel Council. Similarly, companies' total profit declined 20 per cent compared to the same period last year. The number of enterprises above a designated size reporting losses declined from 6 per cent to 27 per cent, says a report by Epoch Times. Companies' total profit also declined 20 per cent to 73.4 billion yuan (about $11 billion).
Production of yarn and textile companies declines
The production of yarn and textile companies above a designated size fell 3.2 per cent and 1.3 per cent respectively year-on-year. Meanwhile, the production of clothing and chemical fiber companies remained constant as that of the same period last year. The average number of workers employed in the industry declined by 2.3 per cent to 5.54 million over the same period of the previous year.
Bigger losses for the dyeing industry
The dyeing industry reported greater losses, as per data released by the Bureau of Statistics of the Chinese Communist Party. In the first five months of 2022, 35 per cent of the 1,684 dyeing enterprises above the designated size in China suffered losses. The losses suffered by these companies also increased by 15 per cent compared to the same period last year. Overall, these companies reported a total loss of 1.535 billion yuan (about $2.3 billion),
Rise in costs leading to losses
The rise in losses of the textile companies can be attributed to growing inputs costs. Since the beginning of this year, price of natural gas, electricity, cotton yarn, and the cost of logistics and transportation have grown significantly, In addition, the strict measures implemented by CCP authorities to control the spread of Omicron resulted in weak consumer demand in China's domestic market.
China's total sales of clothing, shoes, hats, and knitted textiles from January to May this year, declined 8 per cent Y-o-Y to 509.3 billion yuan. In May, total retail sales declined 16 per cent Y-o-Y to 95.8 billion yuan (about $14.3 billion).
Great damage from COVID control measures
CCP's zero-COVID policy and measures to prevent and control the epidemic have damaged the operations of China's textile and garment companies to a great extent. Since late March 2022, China's key textile and garment production areas Shanghai and its surrounding areas, Suzhou, Kunshan in Jiangsu Province, Hangzhou in Zhejiang Province and other places implemented lockdown measures on a large scale.
A survey conducted by the Jiangsu Textile and Garment Industry Association in Mid-April looked at the impact of lockdown on the province's 199 large-scale textile and garment enterprises. It revealed a drop in operating income and liquidity in 85 per cent enterprises. Lockdown measures prevented efficient transportation of raw materials and equipment by blocking the passage of trucks to and from ports. They also led to an increase in freight costs by 20 to 30 per cent, as also labor costs.
Production drops over 50%
As a result, production of 25 per cent of the surveyed companies dropped over 50 per cent. In addition, production of 51 per cent of companies dropped in the range of 20 to 50 per cent. Only 1 per cent companies reported zero disruptions in production. Almost 73 per cent of surveyed companies highlighted increase in production costs as one of the major challenges faced by them while, 67 per cent said, they were concerned over falling orders. Around 65 per cent lamented the lack of normal production and operation while 41 per cent reported payments delays.
In Q1 this year, new order index for China's textile industry declined 29 points to 37.8 from Q4 of 2021, reveals China Textile Federation Industrial Economics Research Institute statistics.