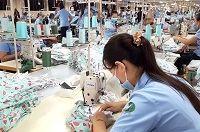 Despite Europe being a huge market, Vietnam's textile and apparel exports to the continent is worth merely $8 billion. The country exported over $2 billion worth garments and textiles to Europe in past six months while exports to the continent in the past year exceeded $8 billion. Currently, European Union is the third-largest importer of garments and textiles from Vietnam after the US and Japan.
High tariffs weakening Vietnam's competitive edge
One reason for modest exports is the high tariffs on textile and apparel imports from Vietnam which have weakened the country's competitive edge in the
global textile and garment industry. To regain lost share, domestic enterprises are manufacturing branded products and those that require higher skills. However, COVID-19 has changed consumption patterns in the country with the textile market witnessing demand for products of low or average value.
Meeting export standards
To boost its textile exports, Vietnamese National Assembly recently ratified the Vietnam-EU Free Trade Agreement (EVFTA) that will become effective on August 1. The new agreement states, Vietnam's key exports to the EU, garment and textiles, will no longer be taxed at 77.3 per cent of export turnover for five years while its import tariffs on remaining 22.7 per cent exports will also be eliminated after seven years. The agreement provides Vietnamese textile and apparel enterprises an opportunity to import high-quality machinery and access raw materials under the European standards.
To explore the benefits of this new agreement, Vietnamese textile and garment enterprises are investing in upgrading infrastructure in factories to meet the technical standards of importers. Tran Nhu Tung, Member-Board of Directors, Thanh Cong Textile Garment Investment Trading Joint Stock Company (TCM), expects the reformed agreement to fuel the company's exports to the EU by 50 per cent.
Similarly, EVFTA has enabled Viet Thang Jean Company to sign long-term procurement agreements with its raw materials partners in South Korea and Turkey.
Focus turns to local materials
However, only a few enterprises have been able to exploit the benefits of this agreement as the Vietnamese garment and textile industry still largely depends on raw materials and supplies imported from China. To overcome this, the non-processing enterprises in the country need to either produce fabric locally or buy domestic raw materials. They can also import raw materials from countries with bilateral trade agreements with the EU such as South Korea and Turkey.
Another hindrance is the size of these companies. Many of these enterprises are small and medium-sized with limited resources and sub-standard production processes. Their investments in research and development of products are also inadequate and do not exploit the intellectual property assets and trademarks effectively. Hence, Vietnamese companies need to focus on meeting the standards and the management process prescribed by the EU, adhere to social responsibility rules and adopt transparency in labor and production management.