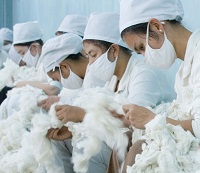 Wang Wenbin, China's foreign minister has accused the US of restricting China's development by withholding five import orders under the pretext of human rights. US Customs and Border Protection recently released five orders withholding the import of cotton and other goods produced in Xinjiang on allegations of human rights abuses and forced labor in the region, informs a Vogue Business report. Based on Section 307 of the Tariff Act of 1930, these orders prohibit the import of goods produced under forced labor conditions.
A broader ban on Xinjiang products
Xingjiang produces almost 85 per cent of China cotton, which is converted into clothes in either Chinese or other Asian garment manufacturing factories. However, lack of transparency makes it tough to track the origin of these garments. Most often products labeled made in countries like Bangladesh, Vietnam, the Philippines and Cambodia may contain cotton produced in Xinjiang, says Sheng Lu, Associate Professor-Department of Fashion and Apparel Studies, University of Delaware.
Hence, the US' ban on a Chinese cotton producer, two apparel factories and one vocational skills education and training centre would have little effect as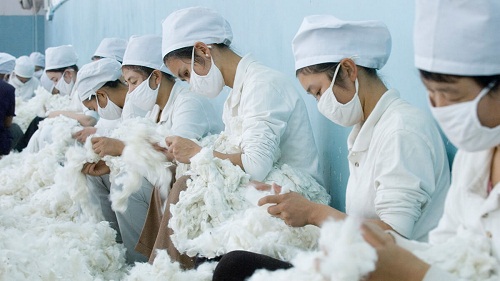 US needs to ban all cotton, yarn and textiles produced in Xinjiang, besides banning apparels made with cotton produced in this region. For this, US companies would have to investigate suppliers across the value chain to ensure products have no connection with Xinjiang cotton. Such a ban would encourage companies to change their modus operandi, points out Di Fan, Assistant Professor, Hong Kong Polytechnic University. Experts say, there is greater need for reassessing fashion, and engaging with other suppliers.
New law to prohibit forced labor
Most often, companies are unaware of the activities of lower-rung suppliers involving smaller subcontractors. As per 2020 Fashion Industry Benchmarking Study, only 85 per cent of US companies track their first and second-tier suppliers, while 25 per cent do not know their third and fourth-tier suppliers. To make these European companies legally responsible for implementing due diligence across their supply chain, the European Union plans to introduce a new law that would make it mandatory for these companies to act against forced labor.
Working as a non-tariff trade barrier, this ban would lead to significant glitches across the supply chain as non-complying products would be detained by customs. Companies relying on global supply chains would consequently have to diversify their supply chain to countries like Vietnam, Pakistan or India and possibly repatriate raw cotton supply to the US.
To implement mandatory due diligence, companies would have to routinely engage with their suppliers, assess their operations and invest in training, auditing and reform, says Tara Van Ho, Co-Director, Essex Business and Human Rights Project at the University of Essex. To stop the violation of human rights, these companies may have to also abandon their business in the region. As per Gearoid O Cuin, this would help them, and China resolve labor issues.