"According to one estimate, Vietnam's textile exports will double in the decade from 2015 to 6 trillion yen ($55 billion). In addition to low labor costs, expected cuts in tariffs under the agreement are drawing textile companies to the emerging country."

Vietnam is emerging as a potential new world production center of textile products, as major global apparel makers are expanding their production in the Southeast Asian country.
Avery Dennison RBIS, a U.S. manufacturer of apparel labels and tags, and South Korean clothing maker Panko are building new plants in Vietnam, which is part of the Trans-Pacific Partnership trade liberalization pact among 12 Pacific Rim countries, including the U.S. and Japan.
According to one estimate, Vietnam's textile exports will double in the decade from 2015 to 6 trillion yen ($55 billion). In addition to low labor costs, expected cuts in tariffs under the agreement are drawing textile companies to the emerging country.
New entrant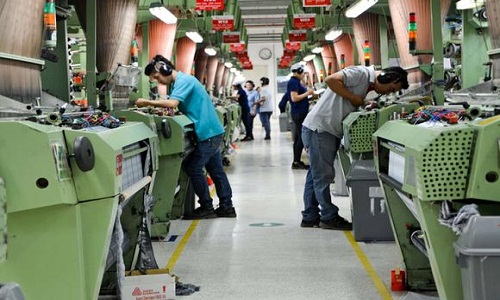 State-of-the-art label printers are rolling off paper tags for global apparel brands such as Nike and Adidas at Avery's brand-new plant in Long An Province in southern Vietnam. The plant, which came on stream in January, can print 10,000 tags per hour containing information like prices and materials used. Its production capacity is twice that of the old plant. The tags are then delivered to factories in the surrounding areas that mainly manufacture sports apparel.
According to Rishi Pardal, the company's vice president in charge of North Asia, Vietnam will replace China as the principal hub of textile exports to Western and Japanese markets.
Meanwhile, Panko is building a new plant in Quang Nam Province, central Vietnam, at a cost of $100 million. The company is responding to growing orders from global apparel brands, including Uniqlo. Choi Jae-ho, a director at Panko's local unit, said the company's sales increased 30 per cent last year and the outlook is for a similar expansion this year, too.
Incidentally, China is still the dominant player in Asia's apparel business, with a total export value of 30 trillion yen. The figure dwarfs India's annual apparel exports of slightly less than 5 trillion yen, the second largest in Asia.
But rising labour costs, which have doubled in five years, are threatening China's status as the regional champion. Textile exports from China fell last year for the first time in six years, signaling that apparel makers are looking to other countries with lower costs.
Clearly, Vietnam has the potential to become a serious challenger to China's supremacy in textile production and exports. In addition to low labor costs, which are nearly 60 per cent less than in China, the TPP, which is expected to come into force around 2018, will further enhance Vietnam's competitiveness.
The trade pact will, for instance, immediately scrap tariffs averaging 20 per cent on 70 per cent of the items Vietnam exports to the U.S. Vietnam's advantage as an exporter will receive an additional boost from its free trade agreement with the EU, which is pending ratification.
To gain the most benefits from the tariff cuts under the TPP, a country needs to have both upstream and downstream sectors. In the textile industry, that means Vietnam needs both spinning and dying as well as sewing businesses.
Huntsman Textile Effects, a division of Huntsman and a leading manufacturer of textile dyes and chemicals, is seeking to capitalise on new business opportunities in Vietnam created by the trade accord.
The company used to transport dyes for yarns and cloths from a warehouse in Thailand to Vietnam, which took two to three weeks to deliver products after receiving orders. But, last year, Huntsman opened its own bonded warehouse in Dong Nai Province in southern Vietnam, which cut delivery times down to as short as four business days.
Acting on time
Meanwhile, even though China has not joined the TPP, Chinese textile companies are also expanding their operations in Vietnam.

Texhong Textile Group, a major Chinese textile manufacturer, has spent 600 million yuan ($92.6 million) to build new production facilities on 220,000 sq. meters of land it purchased in Quang Ninh Province in northern Vietnam. In partnership with a Hong Kong-based knitwear manufacturer, the company is planning to build up integrated textile manufacturing and sales operations in the country, starting with yarn production.
According to Hong Tianzhu, Texhong's chairman, his company will seek to be the top player in Vietnam, which he describes as the biggest beneficiary of the TPP.
Shoe manufacturers are also expanding in Vietnam. Pou Chen of Taiwan, the world's largest contract manufacturer of footwear, which counts Nike and other major brands among its customers, made 42 per cent of its products in Vietnam as of the end of 2015, compared with 25 per cent in China.
But Vietnam is facing tough challenges in its quest to become a global textile giant: Minimum wages in the country are rising at double-digit rates, and its underdeveloped petrochemical industry is limiting production capacity.
If it wants to become the world's new textile plant, Vietnam needs to quickly upgrade its industrial structure while its textile exports still maintain price competitiveness.
Other Asian countries are also trying to benefit from the TPP. Since the trade deal was struck in October last year, Indonesia, Thailand and the Philippines have announced their intention to join. These countries are clearly feeling pressure to keep up with their neighbors in global competition.
Foreign investment in Vietnam's textile industry totaled $5.7 billion in 2014-15, equal to nearly 70 per cent of the accumulated investment over the past 20 years. Such rapid growth cannot be attributed solely to the TPP, but the trade pact has no doubt been a major factor.
The situation poses a puzzle for Japanese textile makers operating in countries such as Thailand and Indonesia. They must decide whether to expand into Vietnam now or wait for its neighbors to join the TPP.