MarediModa presents Trends Summer 2019 for Swimwear/Intimate Apparel/Athleisure Fabrics and Accessories, theme for teh season is Exploring the new without leaving the past. The trends forcasting is done by Trend forecasting by David Shah and Stijlinstituut Amsterdam.
Ad hoc (Swimwear)
An ad hoc, dynamic design process gives the freedom to pick, mix, colour and layer. Modular outfits combine and connect in new ways to morph from swimwear to sportswear to anywear. Fabrics: fabrics are selected to provoke creativity and industrial ambition in design. Choose compact, functional swim and sports fabrics, either plains or with surface or knit-in designs - grids, meshes and heather effects - to represent construction materials. Patterns: think retro construction toys, then mash that with computer graphic patterns, laser cut holes, printed meshes and rhythmic graphic patterns and jacquard weaves. Colours: Meccano shades without the flatness of pure primaries - these are more sophisticated mid-tone brights to colour block with sturdy darks and hazy pastels. Silhouettes: a hard-core sporting foundation for a fun-filled lifestyle. Styles are bold, sporty and graphic.
Next Nature (Swimwear)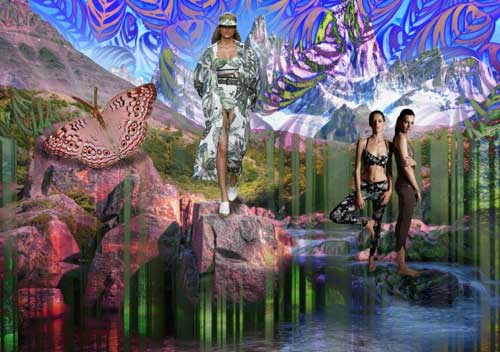 Take a holistic approach, considerate of the full process from ethical sourcing, integrity of design, production methods and disposal after use. Fabrics: manmade, inspired by nature, these smart fabrics mimic nature's sophisticated aesthetics and intelligence. Surfaces are smooth skin, fur or carapace. Patterns: the forest inspires with tonal palm leaves and feathers. Natural irregularities are mimicked using digital language to create magic marls and natural stone effects. Colour: deep natural shades combine urban and natural environments. Forest shades feature with dense pines and cedars, utilitarian khakis, browns and burnished terra tints. Silhouettes: covered silhouettes provide space for hyper-scale patterns. To contrast we propose styles that help nature by shaping the body using body-tuning cuts and tailoring.
Artful (Swimwear)
Traditional folk craft skills can be re-interpreted or blended with high-tech computer graphics for a synthesis between nostalgia and optimism for a global future that is refreshing and exciting. Fabrics: cotton-touch fabrics contrast with skin-touch materials. Basic charmeuses sit alongside crochets, plissé, piqués and honeycomb effects. Patterns: wildly innovative, colourful, fun and bold. Small retro-inspired graphics mix with free-spirited Memphis inspired patterns. African patterns mix with cut and pasted stripes. Colours: fresh, bright hues for bold plains or clashing contrasts. Bright colours are used to collage and create happy harmonies. Silhouettes: Pretty bras and briefs are intimatewear for swimwear.
Into the cloud (Swimwear)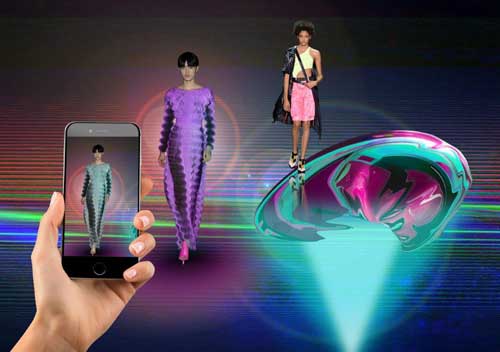 Today's fabrics reach for the clouds with futuristic prints and fibre performance stories. Fabrics: experimentation in intelligent, multi-disciplinary design and manufacturing leads to hyper-dynamic plissés, responsive and sensory materials, fabrics that protect you from paparazzi and warn you of air-born hazards. Patterns: the consumer can co-create: Multi-colour gradients, psychedelic and slightly intergalactic, have the attraction of flowing liquids. Colours: acid and glowing shades where gradient colouring and rasterized patterns add to the virtual and meditative appearance. Silhouettes: experimental novel garment manufacturing methods include 3D printed details and accessories. Fit is optimised using body-scanning technology.
Active Reactive (Intimate Apparel)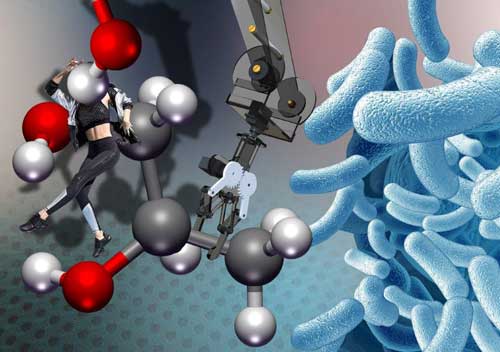 Garments containing personalized health solutions and beauty boosting properties. Fabrics:go lighter, go longer: an exploration of ultra-light support and maximum comfort in breathable fabrics that fit like a second skin or provide compression to improve performance. Patterns: graphic patterns, graduated or engineered effects aid function as well as look. Colours: a palette of contemplation, pure and neutral for energetic performance and active intimate looks. Silhouettes: 3D data modelling and prototyping offer extreme comfort or graduated compression in intelligent layers.
Dress up (Intimate Apparel)
Used garments and waste materials from the fashion industry are recycled and even more valuable as a result: the appreciation of the value of life includes the environment we live in. Fabrics: fabrics take the lead, they are the story and they are intricately embellished, beaded, sequined, fringed, encrusted or ravishingly printed. Patterns: flowers and ornaments. The source is traditional, yet re-worked in modern designs and combinations. Colours: warm and rich in royal reds and blues that combine or vibrate against corals, gold, purples and deep burgundy reds. Silhouettes: from corsetry-inspired classics to activewear innovation, shape solutions are complex.