Ramesh Poddar, Chairman, Siyaram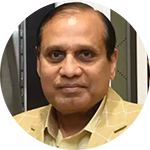 "Definitely there is an opportunity for India as everyone will look for an alternative source. Hence, if we are able to exploit this chance, then definitely there is a possibility for India to be the next sourcing hub. China on the other hand has the advantage of bulk production and to get that kind of advantage and to come to their cost structure will take time though our labour costs are comparatively the same and the advantage they have is of mass scale production. I feel India should take this challenge and fill the gap."
What is the current status of garment and textile industry in India due to the lockdown?
The operations in garment and textiles industry are at standstill due to lockdown. There is very little scope of work from home in our kind of industry. We feel India is attempting a better control of situation due to delayed entry of Coronavirous in India and thoughtful leadership of our Prime Minister. We hope things will resume after the 21 days' lockdown in most of the states however some states look concern. The times ahead will pose some tough challenges to every industry including us.
Are recent happenings an eye opener for all countries not to depend only on one source namely China? Does India have the capability to fill China's space?
Definitely there is an opportunity for India as everyone will look for an alternative source. Hence, if we are able to exploit this chance, then definitely there is a possibility for India to be the next sourcing hub. China on the other hand has the advantage of bulk production and to get that kind of advantage and to come to their cost structure, we will take some time. Though our labour costs are comparatively lesser but they have advantage of economy of scale and some pro industry government policies. I feel India should take this challenge and fill the gap."
What steps has Siyaram as a group has taken to overcome the current situation?
At present, like everyone else we are at a standstill. We have engaged our teams to prepare for future developments and planning. Fortunately, we have got some time for important but not urgent things as known to be the 2nd quadrant of TIME MANAGEMENT theory… we are utilizing this time in planning, strategising and skill building of our key resources for the future. We can only work for the future as everything else is at a standstill now.
What measures has Siyaram taken for its workers?
We have paid full salaries to our workers for the month passed, we expect the lockdown to release soon and we get going to create value for ourselves and for the country.
Do you feel, the government has done enough for the textile industry during this challenging time? What are your expectations?
In the present situation, the government is trying its best to give relief and the industry will want to get maximum package but we need to think of how much the government can give practically. Specifically, we cannot say what package the government should give but if they give a realistic deal that eases doing business it would be helpful. Our industry associations are taking up the matter suitably with the government.
What is your advice to the textile industry in this situation?
My advice is to utilize this important time in a positive manner with family.
Also utilising to upskill your key resources through dialogs and some good training contents. Keep the team engaged and interact on daily basis to be on the same page.
Work and think of the future as these 21 days will have a lot of stories in the times to come. During this period think positive, don't watch negative news or spread negative forwards. Spend quality time with family and keep taking care of everyone's well-being