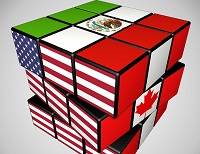 For domestic textile manufacturers and importers in the US, the United States-Mexico-Canada Agreement (USMCA) is a like the medicine that though doesn't cure but does not hurt either. These manufacturers view the agreement as an extension of the North American Free Trade Agreement (NAFTA) that ruled trade between the three countries for a quarter century. Though experts viewed NAFTA as a threat to local jobs, US textile companies viewed it as a getaway to an export market in the south.
Victory for domestic manufacturers
On the other hand, the newly christened trade pact is being seen as a victory for domestic soft-goods and shoe stakeholders. According to Steve Lamar, CEO & President, AAFA the deal provides domestic textile, apparel and footwear industries an assurance of support to supply chain operations that employ hundreds of thousands of Americans.
The deal encourages American businesses to continue to work with supply chains in the North American region, says Lamar. It does not impose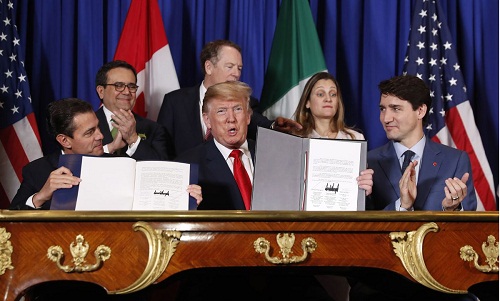 unnecessary trade barriers, such as punitive tariffs which are important for businesses as they recover from the effects of COVID-19 on their businesses, he adds.
US Trade Representative Robert Lighthizer worked closely with the US Congress to get the deal approved. According to the USTR, the deal contains significant improvements and modernized approaches that will deliver more jobs, ensure labor protection, expand market access and offer greater trade opportunities for large and small companies.
Concerns about USMCA the deal
However, supply-chain risk intelligence analyst Tim Yu of Resilience360 raises concerns about the new rules and changes that USMCA introduces. According to him, the deal could affect North American supply chains, including major amendments to rules of origin, higher de minimize thresholds, labor rights obligations, customs facilitation, intellectual property, environmental protections, and digital trade and e-commerce. The rule will compel the defendant to prove that an alleged labor rights violation will not affect trade or investment between parties, he says.
According to Yu, the deal will benefit digital trade and e-commerce firms, retail manufacturers and agriculture producers by offering them greater market access and trade liberalization measures. However, it would also affect North American production by incentivizing foreign companies to move production elsewhere to avoid additional trade restrictions.
Kim Glas, CEO, National Council of Textile Organizations (NCTO) stresses that the deal will greatly benefit the US textile industry at a time when domestic producers, have converted their production lines to manufacturing personal protective equipment (PPE) for frontline workers during this crisis. According to him, it is absolutely critical to sustain the $20 billion in apparel and textile trilateral trade between the US Mexico and Canada and USMCA can go a long way to ensure this.