The Coronavirus outbreak across the US has exposed the country's ineptness in manufacturing critical textile-related personal protective equipment (PPE) on an emergency scale. With great difficulty, factories across the country were able to manufacture the required products like face masks and gowns for frontline workers and the public.
One reason for this is the slow pace of textile and apparel industry revival since the Great Recession. It made retailers and brands realize the importance of sourcing at least a portion of their merchandize closer home. Coronavirus might accelerate this trend further, fuelling the growth of domestic textile industry.
Strengthening supply chains
The pandemic offers domestic textile players an opportunity to regain their position as producers. And as Kim Glas, CEO, National Council of Textile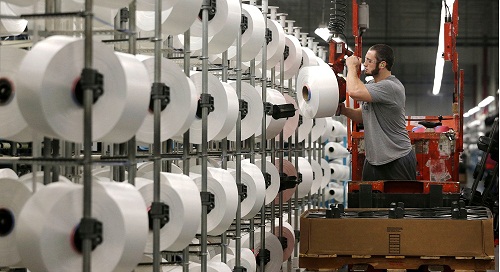 Organizations (NCTO) points out, lawmakers and key decision makers need to introduce new policies and fund to strengthen existing textile supply chains besides attracting new ones.
Glas advises textile leaders to build on the woven fabric and yarns industry in the country. As the US does not have a lot of cut-and-sew operations, it is currently automating some of its finished products to better compete with imports in speed and in lowering labor costs. Manufacturers in the country have also opened new facilities to convert textile and other waste to new textile uses and resins
Policies for domestic producers
The government should draft new policies to support the growth of these industries, Glas feels. It should prioritize domestic production chains and make adequate investments into it. The industry should also appeal to its customers to buy products made in the US only, especially products like masks and other supplies, views Sherry Wood, Director-Merchandising, Texollini.
Experts opine though some production is coming back online and orders are picking up, customers are reluctant to spend due to the looming financial uncertainty. Hence, there is a need for brands and retailer to strengthen domestic industry and production chains that exist with its free trade agreement countries in the Western Hemisphere.
Foundation for 'Made in America' supplies
Ed Gribbin, President, Americas Apparel Production Network (AAPN), views the pandemic as an opportunity for the textile and apparel industry to build a foundation for a 'Made in America' supply chain for critical medical supplies. Wood also believes it offers 'Made in America' to be a key sourcing destination. Consumers, including those in the fashion industry were moving away from products made in China even before the pandemic. The pandemic has accelerated their move.
Preeti Arya, Assistant Professor, Fashion Institute of Technology, advises the industry to revise supply chains for sampling, R&D and small manufacturing, especially of nonwovens and more sustainable yarns and fabrics.
Challenges in the way
Julia Hughes, President, United States Fashion Industry Association argues even though the move to bring apparel production back to the US is welcome, it is not feasible as it is difficult to find companies that make on a cost competitive scale in the country. Hughes acknowledges production of yarn and fabrics in the country is very competitive as the industry has begun to embrace automation and robotics into production.
Once, the pandemic is over, the apparel industry might again revert to producing cheap products as many retailers have gone bankrupt due to COVID-19 losses. This could arrest the revival of 'Made in America' apparels in a big way, opines Hughes.