"Business program of Mercedes-Benz Fashion Week has been set up as a two-day international conference Fashion Futurum. Panel discussions, workshops and presentations were launched in several zones of the Central Exhibition Hall Manege."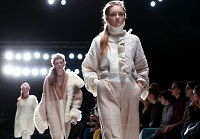 Business program of Mercedes-Benz Fashion Week has been set up as a two-day international conference Fashion Futurum. Panel discussions, workshops and presentations were launched in several zones of the Central Exhibition Hall Manege.
In the conference room Craig Arend, founder of Altamira NYC (USA), VR and AR expert, told the audience how VR technologies could be applied in retail. 3D videos and augmented reality bring new consumer experience: one can look at the product, try or test it and imagine it in different conditions. VR device that literally gives an opportunity to taste a meal without actually tasting it is already a reality. All you need is the objects printed on 3D printer, virtual environment, diffuser with an aroma and imitation of the effect of moving jaws. The speaker pointed out that virtual reality would soon become as simple and mundane as the use of telephone. Obviously, these technologies will be in demand in on-line stores for a detailed but distance introduction of a product to the client, and in demand with those retailers who look into the future and search new ways of interaction with the audience.
The next on the agenda was the panel discussion Future Jobs in Fashion: Fashion Professions Foresight, Expectations and Requirements. Representatives of the European institutions educating specialists of fashion industry discussed what contemporary education should be like and what professions would be in high demand in that field. Among the participants of the panel discussion were Sylvie Ebel, Executive Director, L'Institut Francais de la Mode (France); Danilo Venturi, Dean, Polimoda (Italy), Covadonga O'Shea, Founder, ISEM Fashion Business School, best-selling author (Spain). Tatiana Rivchun, Associate Dean, School of Design, Higher School of Economics (Russia), moderated the discussion. Speakers shared the view that the most productive studying method was the project work. Particularly participation in the project gives an understanding how production works, how to improve in communications, how the team work with other professionals is constructed. Bright personality and a good team player are what the employers are looking for. Apart from designers and production experts, the profession of fashion manager is in high demand and large companies offer opportunities for their professional development.
David Monteith, Fashion & Apparel Director at Flextronics (USA), devoted his workshop to the possibilities of synthesis of technologies and fashion. Studying fashion in a broad sense, as an array of prestigious objects, we can see that new technologies are already a part of it: smart accessories, fitness wear, watches and jewelry. Wearable technologies are one of the profiles of the company represented by David. The second direction, but not the least important one, is the technological advancement of the production process. Fast fashion, increase of production costs for clothes in China, demand for an individual approach in producing fashion for every particular client, set new tasks for the world of technologies. Many acute issues that fashion is facing today could be solved by production robotization. Hi-tech fabrics and accessories that can be status indicators and at the same time make one's life easier - it can all become a part of Haute Couture fashion provided experts in technologies and experts in aesthetics interact correctly and efficiently.
The innovations topic was continued by Giusy Bettoni, CEO at C.L.A.S.S. Eco Textile Library (Italy). Eco Textile Library was established by a group of companies from different countries. It works with the fashion houses and factories, aligns communication between them for the sake of ecological production of fabrics. Recycling of waste ends and use of newly discovered raw materials can save water resources and reduce carbon dioxide emissions. Sustainable development as well as eco-production is something that should be supported, something that should be described to the clients for them to become aware of the new value. Guisy also advocated the increase of transparency in the production cycle: the consumer must know what he or she buys, consumers have the right to make a conscious choice.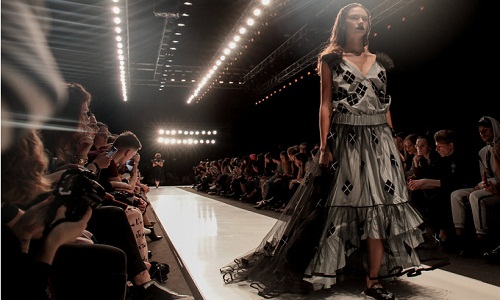 The following experts participated in the discussion Fast Production for High-End Fashion: How does it Change the Industry: Geoffrey Willis (CEO, Trigon Select Ltd (UK), Mark Jarvis (Managing Director at World Textile Information Network (UK), Svetlana Andrianova, President of Company FARADEI CJSC, Filippo Ceroni, CEO of the Italian company Grazia Bagnaresi (Italy). Evgeny Kovnir, Deputy Director at Young Professional, ASI (Russia) conducted the talk with participants. Smart management can speed up the production processes; it includes the use of 3D printing and work in several directions simultaneously. Mark Jarvis expressed his assurance that the reverse process was also inevitable presupposing the slowdown of fashion and growing demand for customized products.
Giualia Pirovano, Group Market Director at Instituto Marangoni (Italy), told the audience about Talent Sourcing in the Fashion Industry. Setting Italian fashion industry as an example, the speaker shared how to succeed in the world of marketing and how talent sourcing and promotion of young talented designers was proceeded in Italy. She also responded to the question about the possible partnership of Russian designers with Italian market. 'Russian fashion has deep roots in spite of the fact that it is not so famous. We are ready to cooperate and share experience with the young Russian designers', underlined Pirovano. 'We invite them to come either to Milan or to Paris to the French school.' Natalya Pochinok, Rector of the Russian State Social Studies University, talked with Giulia.
The question about possible support of the young designers was brought up and the speaker gave a detailed answer: 'It is rather hard to get into the world of fashion because it is very competitive. We motivate young designers to take part in international events. There is a large number of festivals and fashion weeks but is hard to get through. National Chamber of Italian Fashion coordinates such events and arranged three of them: within 10 years we have been selecting the best designers among 200 people and proceeded with their promotion. We selected 30-35 designers and covered expenses for showroom rent, placed funds for advertising, provided contacts of the fashion houses, fabrics manufacturers and suppliers.' Apart from that, Pirovano highlighted the importance of support of the young designers on the state level.
The dialogue was followed by another public talk with Mark Jarvis, Managing Director at World Textile Information Network (UK). It was devoted to technologies and technology disruption in value chain. In the presentation, Mark Jarvis showed how digital technologies were applied in the fashion industry and gave a brief overview of the brands that offered their clients the opportunity to personalize the selected garments. 'What we observe is the perfect storm: there are demands coming from people and computers and technologies offer possibilities to respond to those demands. At the moment digital technologies exist apart from each other but soon they will be united in one space, it will happen, it is just a matter of time,' said the speaker.
David Monteith, Fashion & Apparel Director at Flextronics (USA), Amanda Parkes, Chief of Technology and Research at Manufacture NY (USA) and Dmitry Kolobov, Director of the Department on Development of the Industry of Socially Minded Goods in the Ministry of Industry and Trade of the Russian Federation discussed the following milestone in the fashion industry: Smart Clothing for People with Disabilities. Sergey Karnaukhov, Head of the Federal Project Alliance of Russian Art Engineers, Associate Professor RANEPA (Russia) was the moderator of the discussion. In this fashion direction, the focus is not only on the aesthetics but also on comfortable characteristics and usability. Companies dealing with clothes production for people with disabilities work very closely with the clients. Manufacturing of special clothes requires attention and precision. Embedding electronic devices (for diagnosing the health state and improving mobility) into costumes is the issue that manufacturers of such brands are trying to solve. However different approaches are possible in design: from modelling familiar visual volumes to decoration of artificial limbs. Positioning issues are also still on the agenda.
The panel discussion Fashion is Next Hot Spot for Investments included the following participants: Alexander Korchevsky, Partner at 12BF Global Ventures, Irina Dyadyunova, CEO at Russian Fashion Council and Kirill Tischenko, representative of Investment Dept at Skolkovo Foundation. Speakers talked on the subject of financing designers, about the necessity to forecast risks and analyze fashion markets independent of the scale of the project. The investor should be aware of the market niche to be occupied by designer and the brand so that he could see the perspectives. Irina Dyadyunova raised an issue about financial support to Russian designers with small production facilities, mentioned the specifics of work with such designers and common competition rules.
The question - Why Retailers Should Have an Innovation Program? - was answered by Scott Emmons, Head of the Innovation Lab, Neiman Marcus (USA). A great number of applications was created to simplify communication between the world of fashion and consumer. For instance, Memory Mirror, Snap. Find. Shop, Alerttec or the brand new application Inside by Powerfront. 'I would like to use this project to change the communication paradigm with the Internet client,' shared Scott Emmons. He also touched upon the subject of customized approach to shopping and advantages of the innovation programs that give the client an opportunity to get detailed information in the shortest possible span of time in regards of the appealing brand.
General Director of Be-in.ru Alexey Bajenov talked with Michael Burke, Head of Industry, Fashion, Sports & Toys, Google (USA) about the correlation of the role of glossy magazines and social networks in creating an image and in retail. Speaker provided statistical data and mentioned that today 75% of all purchases were done under the influence of Internet. Contemporary consumer cannot simply come to the store, talk to the sales manager and try on an item. He/she avoids consultants, conducts a search and makes a decision before going into a store. Images from glossy magazines are far from real desires of a particular consumer that is why they use search systems. Google became a tool for direct sales; it helps in collecting information about interests of the user, besides there is search engine advertising. Instagram has also become an important tool with the critical mass of popular bloggers. Now it is an image platform, one cannot shop there but can study the brands closer. Social networks provide opportunities to build a direct connection with the client at the same time pushing out the gloss and reducing costs on retail.
During the panel discussion Incubation of Fashion Tech the following experts shared their experience: Don Lim, Head of the Center for Creative Economy and Innovation (South Korea), Garry Stewart, Director at Wayra (UK) and Arseniy Uralov, CEO at Steelup.ru (Russia). Moderator of the discussion was Ekaterina Inozemtseva, Vice-President at Skolkovo Foundation (Russia). Don Lim shared his vision and told that technology should first be launched, then offered and only afterwards the demand growth could be expected. Fashion industry has good chances to become a platform for launching new technologies. Garry Stewart pointed out the possibility of cooperation with big players of the market that can draw attention of the audience to the new smaller companies. Arseniy used his infrastructure project as an example and demonstrated how incubator can assist in finding the sales market and in attracting investors.
COO Dr. Claudio D. Martelli told about the work of his company Trigon Select, Ltd (UK). In conditions of fast fashion managers have to deal with multiple types of demands. There is no time left for selecting the right suppliers. Trigon Select unites experts who have been working in the field of clothes manufacturing for a long time. Company deals with standardization of evaluation processes of production. Experts from Trigon Select go to a factory to any part of the world, study the economic profitability, equipment, qualification of employees and many other important aspects. The result of their work is regularly refilled global rating of suppliers. After completing the research and establishing the rating value, the company conducts SWOT-analysis and gives development recommendations.
Panel discussion System Disruption: Do Fashion Weeks Have a Future completed the first day of the international conference Fashion Futurum. The following experts were on board: Pascal Morand, Executive President, French Federation of the Haute Couture and Pret-a-porte (France), Xiaolei LV, Vice Secretary General of Shanghai Fashion Week (China) and Alexander Shumsky, Executive President of Russian Fashion Council (Russia). Pascal Morand noted that fashion weeks are icon events that reflect the state of the Russian fashion industry. Xiaolei LV underlines the importance of constant reinforcement of market positions and the importance of finding the target audience. Alexander Shumsky talked about the establishing of a business model and importance of a concept. He also mentioned how critical it is to calculate the process, which will give the designer opportunity to arrange individual fashion shows.