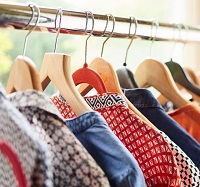 As COVID-19 has reemphasized the need to reduce dependence of Asian imports, South African clothing retailers are planning to boost local apparel production. As reported by the Kohan Textile Journal, one of South Africa's biggest dedicated clothing retailers, The Foschini Group (TFG), has decided to reduce its reliance on single-source suppliers like China. The company now sources 35 per cent of its clothing requirements from South Africa itself. It has been investing in "quick-response" local manufacturing capacity for the last seven years which has enabled it to reduce its lead times to just 42 days.
TFG now plans to expand its facilities over the next five years. However, Anthony Thunstrom, CEO, believes, the advantage of local manufacturing cannot be applied to all products and depends on the availability of the required raw materials and manpower.
Increasing local textile purchases to 50 per cent
Another clothing retailer Truworths favors local manufacturing as it enables quick response and fast fashion. The retailers' percentage of local textile to
total textile purchase has reached 45 per cent and is expected to further increase to 50 per cent over the next few years.
Truworths recently purchased the Barrie Cline Clothing design house that has exclusively supplied to the group for more than 20 years. The retailer has pivoted its local supply chain model around this design house and a few select design houses like Barrie Cline. However, Michael Mark, CEO, believes, local manufacturing also faces certain challenges such as an ageing skills base, an unstable power supply and rising electricity costs.
A price-sensitive retailer which caters to lower-income consumers, Mr Price is also increasing its local content. The retailer has increased its sourcing of local merchandise from 31 per cent in 2015 to 35 per cent. While China still remains the dominant supplier for Mr Price, the group is diverting its focus to other African countries, which alongwith South Africa account for about 45.7 per cent of its merchandise inputs.
The group is also committed to sourcing 1,357 tons of cotton from local producers via its membership of the South Africa Cotton Cluster (SACC). It is working closely with the government through the CTFL Master Plan 2030, which aims to boost locally-produced goods to 65 per cent of overall apparel items by 2030.
Other retailers join the movement
Retailers Game, Woolworths and Pep have also committed to local sourcing. Not typically associated with apparel, Game re-entered the affordable clothing market by launching its new clothing line Stylessentials in August this year. Nearly 90 per cent of this range has been sourced from local suppliers, while 25 per cent has been locally manufactured, says Andrew Stein, Vice President. The retailer aims to increase the percentage of locally-manufactured items to support local businesses.
Similarly, Woolworths also plans to source more apparel locally with over 50 per cent of its purchases coming from the SADC region. Pick n Pay Clothing has collaborated with South African fashion designers such as Gavin Rajah, Julia Buchanan and Katekani Moreku to make locally produced styles more accessible. Pep Clothing (PepClo), a division of Pepkor, manufactures basic school clothing, knitted underwear and flip flops at its four local factory divisions.