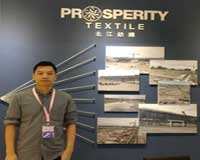 Prosperity Textile is known worldwide for its innovative denim fabrics. Prosperity started a new initiative where they select designers to work on Prosperity Denim fabrics. The designers prepare 'Design Inspiration' collection which is then presented to buyers/brands who can buy the ready to wear garments if they want or use these designs on Prosperity's fabrics. "This designer collection explores the best possibility on our fabrics, highlighting the process involved in its offerings," explains Andy Zhong, Managing Director, Prosperity Textiles and goes on to add, "We select 10 designers who work on our fabrics. Next time we can pick five or 50 designers to get various designs. This collection has different colour combinations and look of denim fabric and it is a detachable collection. Each collection represents a different idea."
Giving insights into the company's F/W '18 collection, Zhong says, "We call it the Fabric Technology and for fall/winter '18 we are offering a range of Hi-Lux coating, as a novelty, which is different from ordinary coating. Hi-Lux coating uses spray coating and is soft and long lasting. When you touch the fabric, it feels soft though it looks stiff. The fabric will be natural and subtle. We also have overdye range as: Indy Blue, Miller Blue and Sweet Indigo. Here the fabrics are overdyed and the colour can be seen through the washes. It can be black on black or blue on blue. Different blends can be done on overdye." Zhong further adds, "As sustainability is always our focus, while dyeing, we try to reduce the impact on environment by using liquid indigo, whereas generally most indigo used is in the powder form while liquid indigo is cleaner. We use 15 per cent less indigo and save 70 per cent on hydro sulphur use." He further explains, "We can save 70 per cent of the COD value of water, when we dye the yarn in the dry form, the colour doesn't easily penetrate the core of the yarn. The indigo is always outside. It saves water and when you do the washing, you can achieve a different and unique colour. It gives a nice dyed effect. And the colour is nice and stylish."
Focusing on eco-friendly aspects, the company uses recycled cotton, post consumer waste. The company has a product called 'colour cotton' where the cotton is originally in khaki colour and there is no need to dye or bleach it as its pure form of cotton.
Prosperity is also the largest Tencel based denim fabric maker in China. Tencel is derived from trees. However, the new tencel comes from the bark of tree that contains the cotton scrap that is leftover after wood cutting operations. This means they are closing the loop. You don't actually cut the wood. The quality is the same as original Tencel. This is unique and one can't get it elsewhere.
Global denim trends
Speaking on global trends in denims, Zhong says, globally the trend is towards basic denim. There will be less of stretch. But when people get used to stretch, they won't return to non-stretch since stretch offers comfort, freedom of movement. Right now, it's more about comfy stretch and not so much about super stretch or high stretch. Another trend is towards softer hand feel. The washed look is basic. People want clean washes with not much bleach and details. Both stretch and hand feel are important. People want to look good in denim. But they also want to feel fantastic and comfortable. The company's future offerings include: C-Blend collection, which is blended with lyocell and cotton. There are various blends of lyocell and cotton starting from small lyocell to up to 100 per cent lyocell, as lyocell content increases the fabric becomes softer. Prosperity has a range with cotton blended with Invista and Tencel blended with cotton. Linen has been tried with denim but it's more in shirting. "We have selvedge fabric which we blended cotton and wool. It looks good and is expensive. Talking about knit denim, it has hand-feel, comfort but its share is small as denim is still woven. Knit denim is too soft and 'drapey' and is not true denim look. Knit denim idea is good but has a long way to go. Denim should be soft and comfy like knit denim but the denim look needs to be maintained," remarks Andy. On athleisure trend, Zhong opines, "People are wondering if athleisure will takeover denim. I think denim is denim and nothing can replace denim. It is the most versatile textile which everyone can wear. But we are learning from athleisure. We don't want to fight trends."
Market spread
Denim consumption in Bangladesh is increasing every year. Prosperity's shipments to Bangladesh grew 100 per cent a year. The biggest share for the company comes from China, close to 60 to 70 per cent, while Bangladesh makes up 20 per cent. The rest goes to Vietnam and Cambodia. Prosperity Denim has a strategic partnership with Bangladesh-based denim mill Envoy Textile where the local buyers can buy Prosperity fabrics in Bangladesh. Every year close to one million yards are made in Bangladesh. In future, more of Prosperity's shipments will be aimed at Bangladesh and Vietnam.
Future plans
Their new facility is coming up Vietnam and expected to be ready by the third quarter of next year. The capacity is 15 million a year. Soon Prosperity will have a capacity for making around 95-100 million yards a year. Andy claims, "We are among the top three in China. Though China is our biggest market, we look at Prosperity as a global player and try to be close to our clients that is: garment manufacturers in Vietnam. We want to invest in Vietnam regardless of TPP. They buy our fabric, make the garments in Vietnam and enjoy duty benefits with different countries like Japan, Korea, Europe and US. Vietnam has free trade agreements with Korea and many other countries and a future FTA with the European Union. The plant in Vietnam is no different from that in China. We can produce the same high range of products in China and Vietnam."