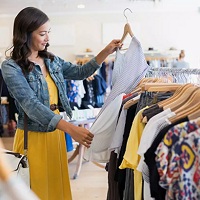 After a hard year, India's retail sector is now looking optimistically at the upcoming Union Budget. The retail sector estimated at $854 billion, is one of the largest industries with 10 per cent GDP share. It employs approximately 46 million people and hence is very important for economic revival and achieving the long-term vision of creating a $5 trillion economy.
Need for policy boost
Business was wiped out for most of the year, however, last few months has seen some recovery across categories. As per a Moneycontrol.com report in November consumer durables and electronics clocked in12 percent YoY sales, the food and grocery segment also saw YoY sales growth at 5 per while apparel and clothing continued to struggle, showing 12 per cent YoY. After recording a 13-14 per cent growth in CY18 and 7-8 per cent in CY19, the industry is now likely to end 2020 with a decline. However, retailers are optimistic about touching 85 per cent of pre-COVID levels of business in the first six months of 2021.
The report suggests, one way of boosting retail could be by giving more money in the hands of consumers. Last
year by introducing a new optional income tax system and incentivising employees to spend more in lieu of leave travel allowance, the government did try to push consumption. However, in the upcoming Budget the sector is expecting larger measures to give that extra flip to consumption.
One long pending demand from the sector is the formulation of a National Retail Policy. A CII report had suggested the policy could give a huge boost to the sector as it will be designed to take growth to the next level. As per the CII report there has to be broad measures like: streamlining approvals and compliance mechanisms to improve ease of doing business; improved access to capital; rapid adoption of technology and modernisation by traditional retailers; bridging logistics and supply chain gap; enhancing labour participation and productivity. Increase in foreign direct investment in multi-brand or single-brand retail will also help in the long run, suggest CII.
Need for better digital infrastructure
Moreover improving small towns and cities digital infrastructure can help retail as seen during the pandemic when e-commerce channels saw a huge traction. Online retail in apparels, footwear, cosmetics, groceries saw a huge growth. In fact, this has pushed big retail players to rethink their strategy with bigger focus on omni channel retail. They are aiming to double the share of e-commerce as it carries fashion to semi-rural and rural pockets. Higher connectivity in rural areas and increased point of sale would drive growth. Better warehousing facilities would also go a long way.
The industry also expects support for labour-intensive sectors such as apparel to boost exports. FTAs with EU and other countries would help as India has an edge with low-cost labour.
Meanwhile to boost Make in India, import duty on certain textiles items were increased from 10 to 20 per cent (recently); on footwear from 25 to 35 per cent (last budget). Similar, extension of import duties on other products in the retail segment could also benefit the industry.