Following the outbreak of COVID-19, fashion retailers were forced to accelerate their e-commerce strategies overnight to restrict dwindling sales. Around 27 fashion companies filed for bankruptcy during from April 2020. They had to also move their stocks to shippable locations as digital purchases increased almost 160 per cent, as per an Accenture estimate.
A report by the Edited shows, to reduce the value of deadstock by 38.7 per cent, retailers introduced new shipping strategies such as 'Buy Online Pickup In Store' (BOPIS), 'Buy Online Return In Store' (BORIS) and curbside strategies from April 2020 to April 2021. They also reduced the number of products in each category to restrict the accumulation of unsold stock. Shipping time reduced 21.4 per cent as they concentrated on best-selling items.
Comfort dominates apparel and footwear choices
A McKinsey & Co report published in August 2020 indicated, the pandemic curbed consumers spending on categories such as apparel, footwear, home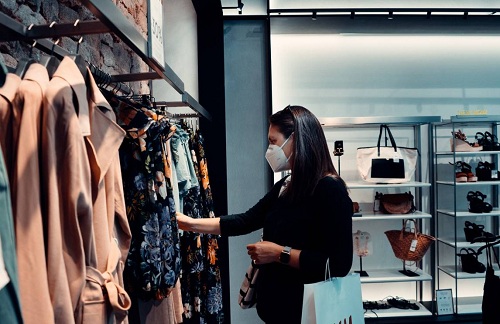 furnishings, skincare and makeup. Their expenditure on groceries, home entertainment and household supplies increased during the period.
The rise in work from home saw many brands switch to casualwear, benefitting retailers of sleepwear, activewear and loungewear. Comfort became the defining fashion trend during the period as demand for women's flat shoes increased by 7 per cent while that of heeled shoes declined by 23 per cent from April 2020 to April 2021. Retailers also reported 32 per cent Y-o-Y growth in demand for hoodies during the period while demand for blazers reduced by 19 per cent from April 2020 to April 2021.
Luxury prices remain resilient
To offset pandemic induced losses, brands planned to realign their pricing strategies. For instance, Victoria Beckham planned to merge main collection with more affordable diffusion brand besides lowering prices of dresses by 40 per cent. Similarly, Forever Unique aims to shift focus to lifestyle products and drop its average price tag to approx $100 against the earlier $130.
However, luxury brands remained immune to this price drop. Their average prices increased by almost 13 per cent from April 2020 to April 2021. Categories which recorded most price hikes include jewelry, outerwear and handbags. Chanel recently hiked its handbag price by 15 per cent indicating a continuation of this trend in future.
Unsold stock leads to increased discounting
To clear unsold stock and improve liquidity, retailers increased discount levels on online platforms. The average discounting percentage of retailers in US increased to 65 per cent in March 2020 while in UK it reached 54 per cent. This impacted the profitability leading to 8 per cent reduction in depth of weekly discounts.
Sustainability key to survival
With increased vaccinations and lifting of curbs, retailers are once again embracing pre-pandemic categories. As per Retail Intelligence by Edited, demand for swimwear and blazers is back to 2019 levels. Stores are reopening especially in the UK where the total like-for-like sales increased 39.9 per cent during the week ending June 27.
The pandemic has taught fashion retailers to run their online operations more efficiently. Retailers have also learned to manage their inventories and monitor discounts on these platforms. Whether they are able to sustain this learning remains to be seen.