"Mercedes-Benz Fashion Week Russia kicked off here at Moscow yesterday on March 12. The opening show was attended by Alexander Kibovsky, Minister of Government of Moscow, Head of Department of Culture in Moscow Government."
Mercedes-Benz Fashion Week Russia kicked off here at Moscow yesterday on March 12. The opening show was attended by Alexander Kibovsky, Minister of Government of Moscow, Head of Department of Culture in Moscow Government.
The Fashion Week opened with Detskiy Mir Fall-Winter 2017/2018 collection Born to Be a Rock Star. Daring and bright clothes of rock musicians reflecting to the rebellious kids' spirit, designer made the most use of glam, punk, hard rock and casual attributes that are so typical for contemporary indie-rock. Gleaming skirts and sneakers, pink ballerina skirts, headbands, leggings, denim jackets with patches, monochrome T-shirts with prints, black leather jackets and bombers with rolled up sleeves - using numerous pieces of this design kit one can put together a lot of interesting looks.
Evening wear for kids and teenagers were presented by the design duet Kibosvskaya & Pablosky. The catwalk featured princes in three-piece suits of thick silk and princesses in veil ball dresses. Oriental and European themes mixed in the garments: feathers and sequin with lace and flounces. Mauve and plum shades were balanced by sky-blue, turquoise and violet.
The collection L'erede was inspired by the street art. Cozy dresses coupled with leather jackets, cable-knit sweaters, ballerina skirts, 'business-like' two-piece suits - for every day, and sport costumes – for special events, every set beamed with freedom and bright individuality. Through the prism of colors, the collection looked calm and peaceful - powder pink, warm greyish brown, airy blue, white and dusty pink.
Fall-Winter collection Arcturus from Vadim Merils was all about lightness, moves, clear lines, precise cuts. The collection displayed garments for progressive youth, street stylers and trendsetters of the Big city. Military came alongside with glam-rock, and casual with clubbish wear items. Symbol of the collection is the Arcturus star that shines for all those in love, reckless and daring.
Character of the Fall-Winter collection from Dimaneu showed a girl who might have steeped out from Vrubel's the Swan Princess: incomprehensible and unforgettable. The collection featured traditionally minimalistic set of colors: garnish red, cool blue, dark-blue, white and all-absorbing black. The keynote of the collection was embroidered flock of birds and prints depicting fairytale princess. The silhouette balances from one edge to another: it is either stretched and straight, or made of puffy draping with underlined delicate waist.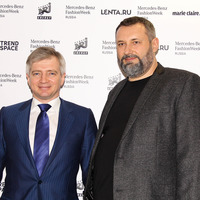 Business style in the big city was demonstrated by Chapurin for Finn Flare. Shirts with petal sleeves, puff jackets and oversize dresses, loose pants with creases proved well that business environment could be comfortable. Among the highlights of the collection were large bows on the bags, massive scarves and hoods. Principal colors of the collection were steel grey, scarlet, black and emerald green.
Highlight of the Fashion Week Slava Zaitsev presented his Fall-Winter collection 2017. Signature style of the master could be traced in the entire line: from the outwear to evening gowns pret-a-porter de luxe. Luxurious garments with outlined silhouettes, trendy outwear made of jacquard and colored wool cloth, three-piece suits and cocktail dresses - feminine attributes were highly praised in the collection, even to the degree of the cult. The highlight of the collection was the bride's dress laced with fancy headwear.
Yulia Nikolaeva created an intellectual shell for a city girl. Straight cuts, A-shaped silhouettes, with one or two major color tones - seemingly simply elements gave birth to the multilayer floppy looks. The illusion has been completed with neat accessories - belt bags, backpacks and clutches. Winter-like dark but warm and thick shades of brown are emphasized by the color of ice coffee with milk.
Collection Fall-Winter 2017/18 from Alexandr Rogov impressed with the complexity and challenges: asymmetric dresses come along with costumes made of brocade, light semi-transparent blouses and skirts with finishing. Main feature of the collection was branded elastic bands.
In the presentation corner, Igor York showcased a line of handmade bags with the texture of steel 'buzz'. Acute and perfectly matching color of the bags allowed to shift an emphasis to the shape. Backpacks, wallets, clutches, hobo and satchel bags shine but due to precise lines look neat and minimalistic.