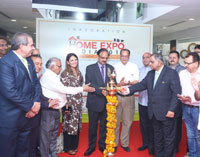 Home Expo Inida 2019 the three in one exhibition comprising of Housewares and Decoratives, Furnishings, Floorings and Textiles and Furniture and Accessories opened today at India Expo Centre and Mart, Greater Noida.
Shri O.P. Prahladka, Chairman- EPCH, Shri Ravi K. Passi, Vice Chairman-EPCH, Shri Rakesh Kumar, Director General-EPCH and prominent members of committee of administration were present during inauguration ceremony.
On the occasion of opening of Home Expo India 2019, Shri O.P. Prahladka, Chairman – EPCH said that the show is in response to the industry demand and International trend of organizing sector specific shows enabling better focus on specific requirements of buyers and is much appreciated by International visitors who can concentrate on products they are looking for without getting lost in the myriad of products, services and exhibitors.
Home Expo India covers sectors with maximum thrust and growth potential in home décor, furnishing, furniture, flooring,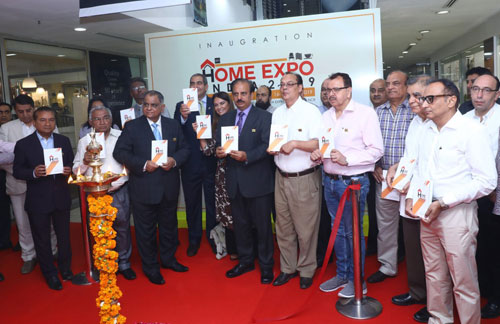 and textiles. About 500 companies in permanent marts will be exhibiting their collection under these categories at the state of the art India Expo Centre & Mart from 16 – 18 April, 2019.
Home Expo India is concentrating on select exhibitors, premium products and thoughtfully invited buyers. This obviously leads one to think that whole exercise of Home Expo India is very methodical, scientific and selective and hoped this kind of approach will yield very good results informed Shri Rakesh Kumar, Director General – EPCH. He further added that buyers from more than 50 countries shall be visiting which included buyers from traditional markets of USA and Europe and buyers from countries like Argentina, Brazil, Chile, Colombia, UAE, Lebanon, Iran, Nigeria, Ghana, South Africa, Vietnam, Romania and many more have also confirmed their participation. The fair organisers of the show met with some of the foreign buyers after inauguration ceremony to have their view about the show as well as their visit to India.
Shri Kumar further continued and said that Furniture & accessories have shown growth of about 27.13% in exports and houseware and decorative have shown 15.19% growth, Home furnishing, flooring and home textiles have shown growth of 6.3% in last year.
During Home Expo India, a thematic display of the North Eastern region and other artisans will also attract the visitors during the three day show.
The Handicrafts exports during the year 2018-19 is Rs. 26,590.25 crores [prov.] registering a growth of 15.46% over the previous year. said Shri Rakesh Kumar, ED – EPCH.
EPCH is the nodal export promotion body for handicrafts in India and plays an important role of a catalyst between the exporters, buyers and the Government with the main objective of boosting trade in Handicrafts and also project India's image in the global market as a reliable supplier.