Home Expo India 2019, a combination of three integral segments of Handicrafts sector i.e. Home-Textiles, Houseware and Furniture concluded here today at India Expo Centre & Mart, Greater Noida.
The premium expo, organized by the Export Promotion Council for Handicrafts (EPCH), registered visit of 556 overseas buyers as well as their representatives and buying agents and retail buyers to source their focused requirements from a diverse range of international quality products under one-roof showcased by more than 375 exhibitors said Shri Rakesh Kumar, Director General – EPCH.
Countries from where buyers came included traditional markets of USA and Europe and buyers from countries like Argentina,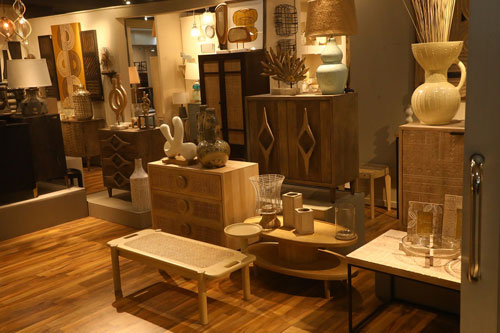 Brazil, Chile, Colombia, Germany, France, UAE, Lebanon, Kenya, Tajikistan, Russia, Taiwan, Singapore, Kuwait, Iran, Nigeria, Ghana, South Africa and Vietnam.
Shri Kumar further said that showcasing of product range through an event is a best tool to create awareness and market its potential. EPCH in India has always taken lead in promoting the Indian handicraft sector. With every step forward, the products package from India is becoming more diverse and tasteful amongst the overseas buying community. The efforts for organising product specific Home Expo India show for the last many have beard fruits by showing growth in exports of 27.13% in Furniture & accessories, in houseware and decorative 15.19% growth and in Home furnishing, flooring and home textiles 6.3% in last year.
A highly specialized and product-segmented triple show-- Home Expo India-- was the culmination of Indian Houseware and Decoratives Show , Indian Furnishings, Floorings and Textiles Show and Indian Furniture and Accessories Shows offered three opportunities to the visitors to source their requirements under one roof. Buyers also seen busy in finalising their orders on last day of the show.
The show in this edition, gave a valuable business platform to artisans and budding entrepreneurs of North Eastern Region and SC crafts of Northern India informed Shri Kumar.
EPCH is the nodal export promotion body for handicrafts in India and plays an important role of a catalyst between the exporters, buyers and the Government with the main objective of boosting handicrafts exports from the Country and also projects India's image in the global markets as a reliable supplier of handcrafted exquisite and quality products.