Focusing on sustainability, the recent spring-summer edition of Denim Premiere Vision highlighted the growing demand for green denim among consumers. The event offered a wide range of alternatives to raw cotton and chemicals for clothing and showcased vintage and workwear-inspired apparel styles.
Alternate denim making techniques in focus
Demand for denim has rebounded due to its ability to fit with the 'Work from Home' routine. Denim mills banked on their signature products and updated them with sustainability features. The denim fashion seminar highlighting spring-summer '23 trends introduced cotton-alternatives like hemp, and new high-tech washing and finishing techniques. The sector spearheaded the sustainability wave in fashion.
An example was the introduction of the most sustainable iteration of the Green Replicants Collection by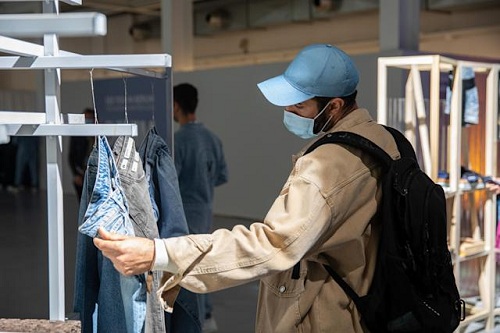 garment-maker and laundry company Elleti Group. The company believes, brands are not always ready to green solutions, especially those in the contemporary and advance contemporary segments. Hence, it develops denim by using the patented Wiser Wash technology. The technology replaces harmful chemicals and pumice stone with ozone treatments.
Denim pants developed by Elleti Group using the Wiser Wash technique were awarded the 'green' Environmental Impact Measuring score. These denims are cheaper than regular ones as they eliminate water and chemical costs. However, its consistency is yet to be assessed before rolling out broadly.
Exploring green blends and recycled fibers
Chinese-Vietnamese mill Prosperity Textile experimented with a wide variety of green blends. The Galactic Collection by the company focuses on the use of bio-based polyester. The material offers elasticity and recovery features while being compostable in specific environments. The mill has also teamed up with Swedish company Sodra to introduce rayon made of wood pulp and 20 per cent recycled textiles for its vintage-looking Once More Denim collection.
Turkish mill Calik's new Re-J collection highlighted recycled fibers including pre- and post-consumer cotton. The company explored the market for hemp blends and fabrics containing up to 20 per cent of natural ingredients. PG Denim focused on saturated colors, flocking and 3D effects, as well as digital prints and metallic finishes. The brand has incorporated denim into sweaters and tops in addition to jeans. It has also developed eco-friendly dyeing technique to reduce chemical usage, notes Paolo Gnutti, Founder. The brand's 'Green Denim' range uses GRS-certified textiles and aimed to tap high-end clients in France, Italy and the US.