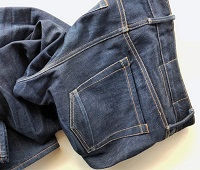 India is one the largest exporters of denim fabric in the world. Data from Astute Consulting indicates, India's denim fabric exports grew at 8 per cent CAGR from 2016-2020. A major part of this growth came from poly denim fabric exports which grew at phenomenal 23 per cent CAGR in these five years. On the other hand, exports of cotton denim fabric stagnated during this period.
The growing popularity of poly denim fabrics can be attributed to increasing affinity for stretch fabrics amongst consumers, superior qualities like better stretch, retraction, and lower distortion as compared to cotton denims, discomfort caused by polyester fabrics, and the inability of consumers to differentiate between poly denim and polyester fabrics.
Bangladesh, India's largest denim importer
India exports denim fabrics to many countries including Bangladesh, Columbia, Egypt, Sri Lanka, etc. Among them Bangladesh makes up almost 50 per
cent of total denim exports as Bangladesh's FTA with the European Union gives India roughly 10 per cent duty advantage on garment FOB prices. Also, Bangladesh offers very competitive fabric to garment conversion rates due to low labor costs. Flexible labor laws enable garment factories to offer large economies of scale and lastly, India's proximity to Bangladesh enables it to export goods by roads, thus reducing lead times.
Local denim mills and delayed custom clearances impede exports
Despite these benefits, denim fabrics export to Bangladesh has dropped over the last few years as Bangladesh is setting up fabric manufacturing capacities on a large scale. These denim fabric mills are much younger than India and more technologically advanced. They have highly productive manufacturing setups compared to the majority of Indian denim mills and produce similar quality fabrics. Also, land customs border to Bangladesh through West-Bengal is inefficient and often delays custom clearances.
To improve denim fabrics exports, the Indian government needs to sign a textile specific FTA with the EU and the US. This will improve the competitiveness of its textile exports and bring them on part with other countries like Bangladesh, Sri Lanka, Pakistan, Egypt, Colombia, etc.
Larger factories and labor laws to improve shipments
The government should ensure speedy custom clearances of export shipments through the Bengal land border. Movement of consignments through river transport should also be considered. It should encourage manufacturers to set up large factories that offer economies of scale and improve productivity and cost competitiveness of garment manufacturing in the country.
The government also needs to abolish archaic and rigid labor laws that discourage it from setting up large scale factories and set up plants similar to those built in China, Bangladesh, and Sri Lanka. The government also needs to revamp its land and labor laws and introduce a new FTA with the EU and US.