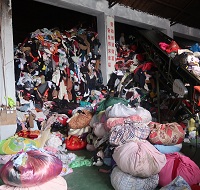 One of the world's biggest fashion markets-China throws away 26 million tons of clothes every year. Less than 1 per cent of these discarded clothes are reused or recycled, which contributes to 10 per cent of global carbon emissions, says a report by the Ellen MacArthur Foundation.
Exporting used clothes to poorer countries
As per a Bloomsberg Quint report, one of the reasons, China does not recycle used clothes is because the country has legally banned recycling due to health and safety reasons. China has appointed state-approved organizations to assemble used clothes and segregate them according to their condition. These are then exported to other countries.
China's exported around 6.4 per cent of the world's total used clothing in 2015, reveals data from the UK-based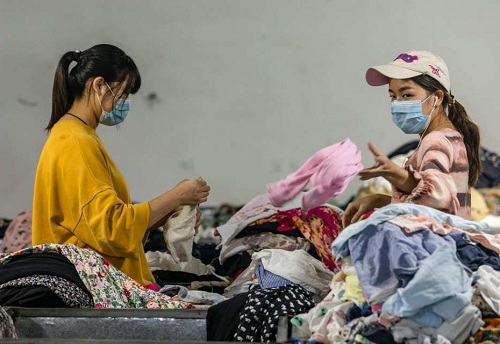 Textile Recycling Association. Majority of these were exported to Africa. Many are sold on e-commerce sites like Alipay. Hangzhou-based e-commerce seller Baijingyu or White Wales collects about 70 per cent of used clothes and sells them at overseas second-hand clothing markets. Another 15 per cent are used in construction, agriculture, or gardening, or sent to waste-to-energy incinerators. Their main markets are Southeast Asia and Africa.
Some clothes are exported to Europe and the US before being re-exported to Africa. Earlier, China used to import used clothing. But it banned imports of 24 kinds of solid waste, including used textiles in 2017. Now, it sends more clothing for re-use and recycling which has led to a spurt in small startups in the country. One such start-up is the Re-Clothing Bank in Beijing makes patchwork jackets, bags and carpets out of used clothes.
Designing for durability
Yet, China throws away a vast majority of discarded apparels into waste bins, compounding environment issues. China has one of the biggest waste bins in Jiangcungou, Shaanxi province, which collects almost four times the amount of predicted daily waste.
It also cuts and adds discarded garments to trash-to-energy incinerators to make them more efficient. However, this is not an environmentally sustainable solution, says Allan Wheeler, General Delegate-Textile Division, Bureau of International Recycling. He advises designers to design their clothes for durability and consumers to curb their consumption patterns.