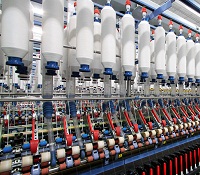 After facing several impediments in the first three quarters of 2020, due to US-China trade stand-off and the pandemic, China's economic growth has steadied. In fact, the country is doing better than most others at the moment on all economic indicators. Business has recovered steadily as consumption has grown and investment stabilized and exports recovered beyond expectations. In continuation, the textile industry too is improving. Therefore, the overall operation of textile machinery sector in the first three quarters has recovered, while a dip in its economic operation indicators has reduced, says a survey by China Textile Machinery Association.
Demand still to pick up
With growing demand for textile equipment used for epidemic prevention, China's exports increased significantly. However, the global textile market is
still facing pressures due the pandemic and demand for textile machinery is still low, reports Digital Journal. The analysis reveals from January to September 2020, the total cost of textile machinery enterprises above designated size was down 15.7 per cent to 43.77 billion yuan compared to the same period last year.
The China Textile Machinery Association survey of 95 key textile machinery enterprises on their operating conditions in the first three quarters of 2020 shows operating conditions have improved compared with the first half of the year. Operating income of 50 per cent enterprises declined to varying degrees. In fact, for 11.83 per cent enterprises orders dropped more than 50 per cent, and the prices of textile machinery products are generally stable and down. Almost 41.76 per cent enterprises have the same inventory as last year, and 46.15 per cent enterprises' capacity utilization rate is above 80 per cent.
Companies point out the problems they are facing are mainly due to low demand from both domestic and foreign markets, pressure from rising costs, and blocked sales channels. Weaving, knitting, chemical fiber and non-woven machinery companies expect orders in the fourth quarter to improve compared to the third quarter.
Customs statistics reveal, cumulative total of China's textile machinery imports and exports from January to September 2020 was $5.382 billion, a year-on-year a drop of 0.93.
Market ahead
The reports suggests textile machinery industry's business in Q4 and 2021 is still facing many pressures. The pandemic has slowed down global economy. As per IMF global economy will fall 4.4 per cent in 2020. With uncertainty and instability there are pressures on global supply chain, a sharp decline in trade and investment, massive loss of jobs, and geopolitical conflicts. As per, a survey by the International Textile Federation (ITMF) in September 2020, the turnover of major global textile companies in 2020 is expected to drop on an average 16 per cent. And it will take several years to fully compensate for the losses. As a consequence market adjustment of the textile machinery industry will continue, and pressure on enterprise production and operation will not ease soon.