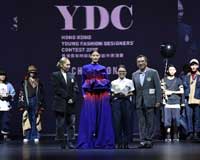 As one of the main highlights of CENTRESTAGE, the Hong Kong Young Fashion Designers' Contest 2017 awards ceremony celebrated young talent on September 9. During the event, Arto Wong was named Champion and winner of the 'New Talent Award'. She received a cash prize and a study trip aboard, including a visit to the Japanese design GVGV studio, sponsored by Sun Hing Knitting Factory. Wong will also receive mentorship from Joyce Boutique, to develop a capsule collection that will be sold at select shops under Joyce Boutique. The winners of the Hong Kong Young Fashion Designers' Contest 2017 are champion and new talent award: Arto Wong for 'Zero to Unlimited'; first runner-up: Sonic Lam for 'Barren Land'; second runner-up: Wilson Choi for 'The Stolen Soul'; and best Footwear Design Award went to Jason Lee for 'Kingdom of the Underground'.
Innovative young minds at work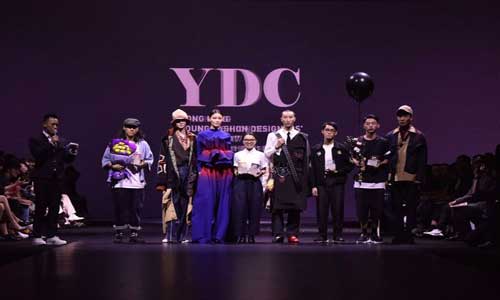 Inspired by immense possibilities of transforming molecules to matter, Wong's designs sought to play with weight and proportion. Crafted from polyester yarn, the designs achieved volume, while remaining incredibly light. The collection serves as a story of aspiration and empowerment to never underestimate the energy released by combining small molecules. The overall YDC champion and winner of the New Talent Award says it was a challenge finding time to finish the outfits being a full-time designer. Apart from time-management challenges, she encountered difficulties in trying to create volume, weight and the bounce effect for the ruffles in her knitwear collection, eventually succeeding after trying numerous techniques. The experience has inspired her to continue exploring the infinite possibilities of knitwear.
Sonic Lam, the first runner-up of YDC, points out YDC is a competition that every Hong Kong fashion design student aspires to take part, and was delighted to have won the award on his first try. He said he would eventually like to start his own brand after the study trip, adding that he was ready for the challenge of the endeavour. Fascinated by how Hong Kong has evolved from a barren rock to an international hub, he strives through his designs to preserve the best from the city's past and make them relevant for this generation. Watered gauze, a wispy, silky fabric from the olden days, was extensively used in this collection. Its deliberately washed-out texture lent itself to a distinctive vintage feel. By fusing together old and new, the collection breathes new life into old traditions.
Collegiate apparel with a rebellious undertone defines Wilson Choi's collection. The 50s Swedish movie Ondskan compelled him to examine the subversive bullying culture plaguing schools and society. Navy blue, a colour broadly associated with school uniform, was chosen as the primary colour that ties together his collection. Furthermore, maroon brushstroke stripes introduce a sense of defiance, resembling graffiti-like street art. The sportswear-inspired pieces incorporate bonding and seamless techniques on wool; affixing a number of pockets to enhance the designs' practicality and functionality.
International panel of judges
YDC 2017 had invited Mug, founder and designer of popular Japanese fashion brand GVGV to be the VIP judge. Mug appreciated the overall performance of YDC designers and said each contestant should strive to express their own style through designs that are true to themselves. Praising the winning knit collection, she said it showcased originality, personal style and market value, noting that Arto Wong will go on to have a flourishing design career.
Mug joined other senior industry and media representatives that comprised the judging panel. Lawrence Leung, Chairman of the HKTDC Garment Advisory Committee was chief judge, alongside fellow judges: Tasha Liu, Brand Director and Co-founder of C.DONGLIANG and LABELHOOD; Michael Mok, General Merchandising Manager of Joyce Boutique (Hong Kong); Marcella Wong, Chief Editor of Marie Claire; among others. The best work was selected based on creativity and originality, market potential, workmanship, use of fabrics and overall visual appeal.
The inception
Organised by the Hong Kong Trade Development Council (HKTDC), YDC has been nurturing and identifying emerging talents in the local fashion industry for nearly four decades. To promote Hong Kong fashion designers to the world, the HKTDC launched the fashionally.com online platform in early 2012 to provide a one-of-a-kind networking and exchange platform for global fashion experts to connect, inspire and share information.