CISMA has been going on for four days with a flood of people, Many booths are bustling. Bruce booth is one of them.
CISMA launched on September 26th this year, and the birth time of Bruce's new computerized lockstitch sewing machine R5 was just in time to catch the last express train for CISMA .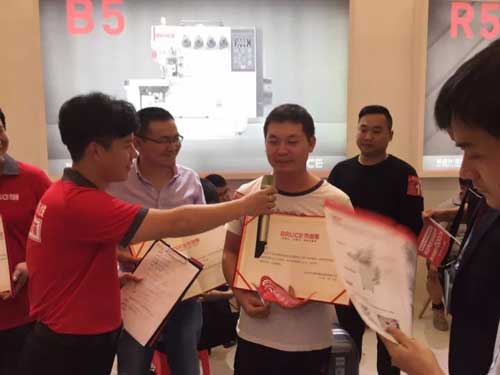 On September 14th, Bruce R5 sewing machine hit the world's longest recordof the continuous empty step without any break of thread. Its superior performance attracts the attention of the section world——if you are afraid of skipping, afraid of break, pls choose Bruce.
The section world was boiling with this exciting message that the machine will be presented in CISMA.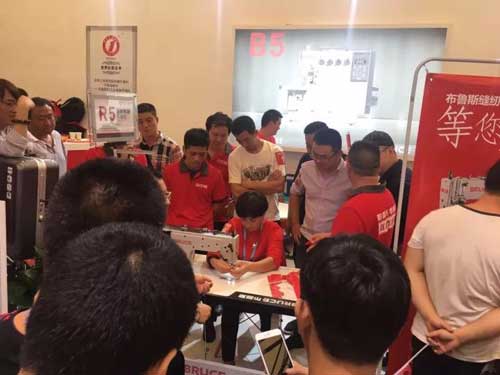 Bruce's booth is located in hall W1, booth no.1,nearest to the entrance. The crimson tone, coupled with Bruce's dazzling display, attracte the attention of the visitors at once.In the exhibition site, Bruce launched the "Bruce sewing world record challenge", so that visitors can personally experience the stability and operational comfort of R5 ,even challenge the world record—— Bruce's computerized lockstitch sewing machine being no thread break for 64.8 meters by continuous empty steps.In just a few minutes, the number of applicants exceeded the rules of the competition.When competition ended, although no one can break the Bruce's 64.8 meter world record, nevertheless, the result also makes people pleased and satisfied. A number of Challenger scores reached more than 40 meters, and the top record is 46.64 meters, quite closely to the world record.
Bruce Industrial Sewing Machinery Company was founded in 2006, the company is located in Taizhou City, Zhejiang Province. China. which is the world's most important production and R & D base of sewing machines.With introduction of most advanced technology and equipments, the company has nearly 100 high precision machining centers and tens of millions of investment of testing equipment, fully guarantee the stability and reliability of products. It is the domestic leading sewing machine manufacturer, productssale are among the top within country, with saling network covering more than 30 domestic provinces, cities and autonomous regions, the company's business also enter more than 100 countries and regions of the world.