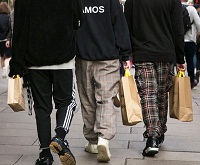 While 2020 was full of hardships for brands and retailers with store closures, major dip in both sales and revenues, many struggled while others looked for ways to stay afloat. In all this madness brands came up with new strategies to survive. From antiviral collections, home apparel line to shop-on-wheels at resident welfare associations and appointment viewing, besides doorstep delivery fashion and lifestyle brands rolled out new ways to reach and connect with customers.
Innovative customer approach
As Ajay Kapoor, President-retail, Fabindia explained to BrandWagon Online, "It is all about unlearning what has been learnt in
all these years and learning new tricks of the trade." Fabindia's business has recovered 60 to 70 per cent while online sales have doubled over the last six months. The brand launched its 'White glove service' through which it reaches loyal customers with online customised catalogues and look books to order products delivered at their homes. The aim is to be present wherever the customers are.
Other brands too have come up with innovative ways to connect with customers. Peter England introduced a collection of workwear, loungewear and face masks with virus-resistant technology 'HeiQ Viroblock' in collaboration with Switzerland-based HeiQ. Manish Singhai, COO, Peter England, believes most of these products will remain relevant in future. She feels the deep cultural change that took place during the lockdown in consumer habits is likely to stay for a long time. "Moreover, wellness series of products as well as health products are going to gain prominence in the future," she told the Financial Express, with work from home becoming the new normal, casual, comfortable clothes will be in demand for a long time.
Online retail in focus
Peter England's online sales have doubled since Covid-19. In fact, most brands have seen a spurt in online sales and hence have increased marketing spends on online platforms.
For example, High Street Essentials clothing brands FabAlley and Indya are looking to only spend online till the first quarter of FY22. As Tanvi Malik, Co-founder, FabAlley and Indya explains, within digital, performance marketing will contribute about 90-95 per cent of the company's spend and 10 per cent will be spent on brand building on digital. The company's online sales are almost 120 to 150 per cent higher than last year. Having understood the importance of online sales the company looks to sharpen its focus on the medium. Practices like same-day refund and exchange process; communicating real-time delays in orders through association with logistics intelligence platform Clickpost are some ways they are looking to gain customer's trust.
The bottomline therefore, is reinvention keeping new realities in focus. Fashion as of now is all about being casual and comfortable and brands need to realign their offerings as per demand.