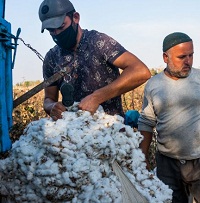 The ban on Xinjiang cotton has shifted apparel brands' attention to Uzbek cotton as well. As Apparel Insider report, huge tracts of land in Uzbekistan are being transferred to private operators for cotton cultivation. However, this has left many farmers destitute and poor. Farmers in the country are being coerced into voluntarily giving up their land leases with a devastating effect on their livelihoods.
As per latest data, the Government of Uzbekistan has transferred around 27.5 per cent of its 907,783 hectare to 96 private clusters for growing cotton. These clusters have been accused of imposing below-market prices for cotton states an April 2020, Uzbek Forum for Human Rights report. They are also known to set unrealistic production targets, demand inflated costs for inputs such as fuel and seeds and defer payments for delivered cotton.
Rising land grabbing culture
Another negative effect of privatization is the growing incidence of land-grabbing in the country which is negatively impacting rural population. Private
cluster operators in the country are taking over huge farmlands as land lease terminations in the country are voluntary. Many of these land transfers are executed by local officials or hokims who either instruct farmers to voluntarily sign away the lease on their land or are notified that their land leases have been terminated.
One of the clusters to have gained land from farmers with the support of government officials is the Surxon Cotton Cluster. Established on December 1, 2020, the Surxon Cotton Textile cluster received 22, 400 hectares of land confiscated from 475 farmers. Owned by Petromaruz, a private investor with 25 businesses, the cluster gained this land by threatening farmers and destroying their crops. Blogger Otabek Sattoriy, who supported these farmers was arrested on January 30, 2020 on extortion charges.
In 2018, Uzebek government transferred 50,000 hectare in Kashkadarya and Syrdarya regions to Indorama Agro, part of the Indorama Group, where 2,897 farms operated. Farmers who owned this land were promised employment with the company. They were also promised full time pay, other benefits and security. However, two years have passed and the promises are not yet fulfilled. The rural communities are not being allowed to rent land for agricultural purposes to supplement their incomes. Most farmers are planning to migrate to countries like Russia to work as migrant workers.
Similarly, Silverleafe International, a subsidiary of the US-based Silverleafe Capital Investors group is yet to compensate farmers for the 11,700 hectare of land it received in the Pakhtakor district of Jizzakh region. According to the agreement between the two parties, farmers were to receive compensation for the costs of seeds and cultivation on 921 hectares of their land which were plowed and destroyed by the cluster. Although the farmers were reimbursed for their crops, they received no compensation for the loss land leases or livelihoods.
New laws to protect human rights
The Uzbekistan cotton sector has been privatized with the aid of multi-million-dollar loans from international financial institutions, including the International Finance Corporation (IFC), the European Bank for Reconstruction and Development (EBRD) and the World Bank. The country's FDI reserves have grown from $1.6 billion in 2018 to $4.2 billion in 2019. The Finance Ministry predicts FDIs to reach $7.81 billion in 2021.
Uzbekistan government's Impact Assessment Reports fail to grasp the consequences of handing over its farmland to private owners with zero agricultural experience. Its ill-conceived mitigation measures are known to perpetuate and reinforce another form of forced labor, leaving farmers even deeper in debt.
International investors therefore, need to ensure that their projects in Uzbekistan do not violate human rights and ruin the lives of its rural communities. The proposed EU legislation that threatens to penalize companies for not complying with this norm may help them achieve their goal.