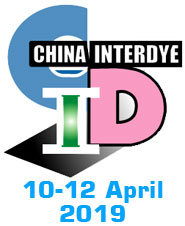 Venue Address: Shanghai World Expo Exhibition and Convention Center, Shanghai, China
Oragniser: Shanghai International Exhibition Service Co., Ltd
Official Website:
www.chinainterdye.com
Tel: +86-21-62792828
Contact Person: Miss Wang Wei Na Chen Ying
City: Shanghai
Industry: Dye-Chemical
Date: 10-04-2019 ~ 12-04-2019
PREVIEW: China Interdye and China Textile Printing, organized by China Dyestuff Industry Association, China Dyeing and Printing Association, and China Council for the Promotion of International Trade, Shanghai Sub-Council and hosted by Shanghai International Exhibition Service Co., Ltd., will be held at the Shanghai World Expo Exhibition & Convention Center (SWEECC). The 40,000-square meter exhibition area will house over 600 exhibitors from more than 14 countries and regions. Exhibits will include a variety of advanced environmentally-friendly dyestuffs, organic pigments, catalysts, intermediates and environmentally-sound equipment as well as textile printing products and equipment, printing and dyeing automation technologies and materials.