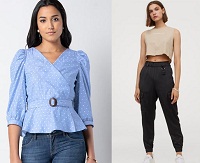 The pandemic has left a permanent scar on the fashion industry with revenues expected to drop by over one-third or equivalent of up to $640 billion in lost sales, says a Boston Consulting Group report. Around 81 per cent of US consumers expect the pandemic to lead to a recession and plan to curtail their fashion expenses this year. Forty per cent expect brands to offer discounts or other promotions once stores reopen. The BCG report says, consumers are expected to shop more for casualwear, activewear, home categories, and beauty products with preference for shopping through digital and social media channels. To grab the attention of these consumers, brands need to strengthen their online presence and focus on customization, community-building and superior online-shopping interfaces and deliveries.
With growing economic uncertainties, customers are expected to shop for either lower-priced goods or premium products that provide more value than
they did previously. They will favor brands offering sustainable products. Hence, brands should focus on right-sizing operations, including rethinking sales channels to address shifting preferences and behaviors.
Reorganize retail partnerships and adjust costs
Brands must reorganize their wholesale and retail partnerships and update their sales channels. They should strengthen their partner ships with multibrand platforms, such as Asos and Zalando and e-commerce giants like Amazon and Alibaba's TMall. Retailers should close their low-performing stores. Adjust the cost of sold goods, rent, personnel, marketing etc by consolidating materials sources and suppliers and being more vigilant about the timing and management of markdowns. They can offset online marketing costs by decreasing budgets for large-scale events and above-the-line costs.
Maintain agile inventory
Brands and suppliers should maintain an agile inventory to minimize losses caused due to order cancellations and other adjustments. They should undertake a zero-based organization redesign to make their operating model leaner and more agile. A bionic operating model can give them an opportunity to digitize their product development and supply chain to them more agile and effective.
They should build their capabilities and processes by adopting advanced analytics and artificial intelligence (AI). This will help them to codify data from all sales channels and consolidate it onto a single analytics platform to improve decisions on planning, buying, promotions, markdowns, and in-season inventory management.
Readjust product portfolio and pricing
The study suggests brands should readjust their product portfolio and pricing strategies according to customers' requirements. Pursue mergers and acquisitions to expand operations and increase scale and market share. This will also help them to integrate across the supply chain into production or last-mile delivery; buy adjacent products or capabilities in order to diversify their product portfolios; or buy AI or digital startups. They should adopt new business practices to continue giving customers what they want. These strategies will help them to emerge stronger from the current crisis.