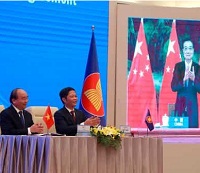 On Sunday, November 15, China and 14 other countries virtually signed the Regional Comprehensive Economic Partnership (RCEP), to create world's largest trading bloc, encompassing nearly a third of all economic activity. The pact will cover 2.2 billion people with a combined GDP of $26.2 trillion. As per PwC estimates, the GDP of RCEP member states will be worth around $250 trillion by 2050. The new free trade bloc will be bigger than both the US-Mexico-Canada Agreement and the European Union.
RCEP is expected to boost partner economies by reducing tariffs, strengthening supply chains with defined rules of origin, and framing new e-commerce rules. The agreement benefits include tariff elimination by almost 92 per cent on traded goods among participating countries; stronger provisions to address non-tariff measures; enhancements in online consumer and personal information protection; transparency and paperless trading among others. It also includes simplified customs procedures with 65 per cent service sectors being fully open with increased foreign shareholding limits.
The RCEP comprises a diverse mix of developed, developing and least developed economies of the region with various cultural backgrounds and political systems. The deal includes several of the region's heavyweight economies including China, Japan and South Korea and partners like New Zealand, Australia, Indonesia, Thailand and Vietnam in Southeast Asia.
Asia, China become the centre point
Many in Asia are hoping this deal will hasten recovery from the shocks of the pandemic, as partner countries, said in a joint statement the deal "will play an important role in building the region's resilience through inclusive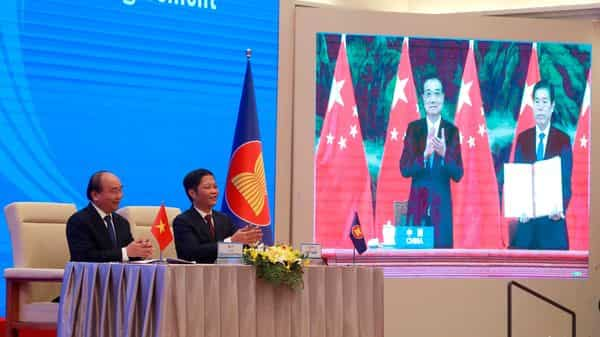 and sustainable post-pandemic economic recovery process." In a written interview with Xinhua, Deng Xijun, Chinese ambassador to ASEAN noted, signing of the trade deal itself has given a strong shot in the arm to regional and global economic recovery and set an example on a global scale. "The fact that these diversified countries could unite and reach a pact, demonstrates the tremendous appeal of free trade and win-win cooperation," Deng said.
Others opined the deal was evidence of Asia's growing power. Asia keeps pushing ahead with trade liberalization even as other regions have become more skeptical. It may reinforce a trend that's been already underway for decades: that the global center of economic gravity keeps pushing relentlessly to the East.
In many ways, RCEP is a coup for China, the biggest market in the region with more than 1.3 billion people, allowing Beijing to cast itself as a "champion of globalisation and multilateral cooperation" giving it greater influence over rules governing regional trade, wrote Gareth Leather, Senior Asian Economist for Capital Economics, in a report.
US could swing the balance
The trade agreement was first proposed in 2012 as a way to create one of the world's largest free-trade zones. In 2017, prospective RCEP member states accounted for 3.4 billion people or 45 per cent of the world's population and about 40 per cent of world trade. The total gross domestic product (GDP) amounted to $49.5 trillion, and China, India made up more than half of it, surpassing the combined GDP of Trans-Pacific Partnership (TPP) members in 2007. However, with US' withdrawal from TPP, the chances of RCEP's success have increased many fold.
"Whether RCEP changes regional dynamics in favor of China depends on the US response" points out trade expert William Reinsch. If the US continues to ignore or bully the countries there, the influence pendulum will swing towards China, he feels. "If Biden has a credible plan to restore the US presence and influence in the region, then the pendulum could swing back our way."
Analysts, however are skeptical Biden will push hard to rejoin the trans-Pacific trade pact or to roll back many of the US trade sanctions imposed on China by the Trump administration. But given concerns about China's growing influence, Biden is likely to seek greater engagement with Southeast Asia to protect US interests, believe trade experts.
India stays away but doors still open
The deal excludes India, which pulled out of the agreement last year over concerns about cheap Chinese goods entering the country. "It's symbolic value has always exceeded its actual value," argues Reinsch. He pointed out that India's opting out amounted to lessening the importance of the agreement in terms of actual trade.
While India had been involved in RCEP negotiations since 2013, it walked out of the pact citing "significant outstanding issues" that were unresolved by the deadline to enter the agreement. Key issues for India were related to safeguarding the country against China. Concerns include "inadequate" protection against surges in imports —as Indian industry fears signing the RCEP would allow cheaper products from China to "flood" domestic market. India had been seeking an auto-trigger mechanism through which it could raise tariffs on products in instances where imports crossed a certain threshold to counter this threat.
India had also sought more market access and raised issues of non-tariff barriers by countries like China that would prevent it from growing exports. India's tough stand surprised participants late last year which later abandoned the agreement, over concerns about how RCEP would affect the livelihoods of Indians, particularly the most vulnerable. "The clause allowing India to join at a later date is symbolic and shows China's desire to build economic bridges with the region's third-largest economy," Bloomberg quoted.
India, being an original negotiating participant of the RCEP, has the option of joining the agreement without having to wait for 18 months as stipulated for new members. RCEP signatory states say they plan to commence negotiations with India once it submits a request of its intention to join the pact "in writing", and it may participate in meetings as an observer prior to accession.