In the webinar titled 'The Perfect Storm: Future-Proofing Your Fashion Business', Michael Ho, Marketing & Brand Partnerships Manager, Zalora, described 2020 as a year of expansion. The webinar was a part of the three fashion-related webinars hosted by the Online HKTDC International Sourcing Show recently. Ho said, as consumers were unable to travel during the pandemic, sales at most brand stores plummeted. This encouraged brands to scout for new sales channels. Zalora offered an attractive choice for such brands as it enabled them to cover losses from lack of physical sales but also increased average order frequency to 3.3 times a year.
Focus shifts to safety and comfort
The pandemic also forced industry leaders and consumers to shift focus from aesthetics to safety and comfort, said, Edwin Eeh, CEO, Hong Kong Research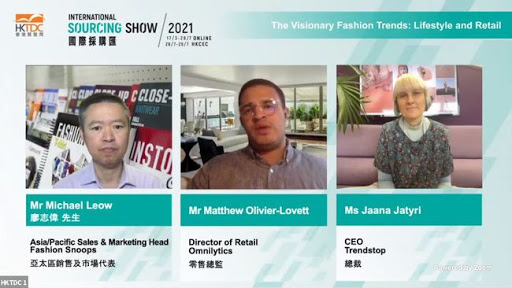 Institute of Textiles and Apparel (HKRITA) at a webinar tilted 'What's In for Fashion: Sustainability is the New Normal?' Consumers have also become more discerning about the materials used in their apparels and the production process, added Eeh. He advised all organizations to introduce practical innovations that can be adapted to the marketplace.
Humanity and morality to define future trends
Separation and loss experienced by many people in 2020 will define future fashion trends, pointed out Michael Leow, Marketing Head-Asia Pacific, Fashion Snoops at the webinar 'The Visionary Fashion Trends: Lifestyle and Retail'. Leow explained, the four key trends for Spring/Summer 2022 will all be related to the restoration of humanity and morality. The first of this theme will be 'Essential' focusing on the emerging simplicity in people's choices. The second theme 'Nourish' will focus on the well-being of consumers; the third 'Liberte' will reflect on their desire to be free from the pandemic induced restrictions while the last theme 'Rebirth' will focus on brands' commitment towards environment and fair trade practices.
Matching customers' requirements
To succeed, brands need to match their products with consumers' tastes, said Jaana Jatyri, CEO, Trendstop, a trend and consumer taste forecasting agency. Jatyri predicts the industry will lose 50 per cent business and jobs in the next five year and advised fashion suppliers to use trend data to understand latest colors, prints and graphics, materials, shapes and detailing. This will ensure brands produce only items that consumers prefer buying and prevent avoid unwanted products from being dumping into the landfills.
In all, the Online HKTDC International Sourcing Show hosted a total of 17 webinars attended by over 60 industry luminaries.