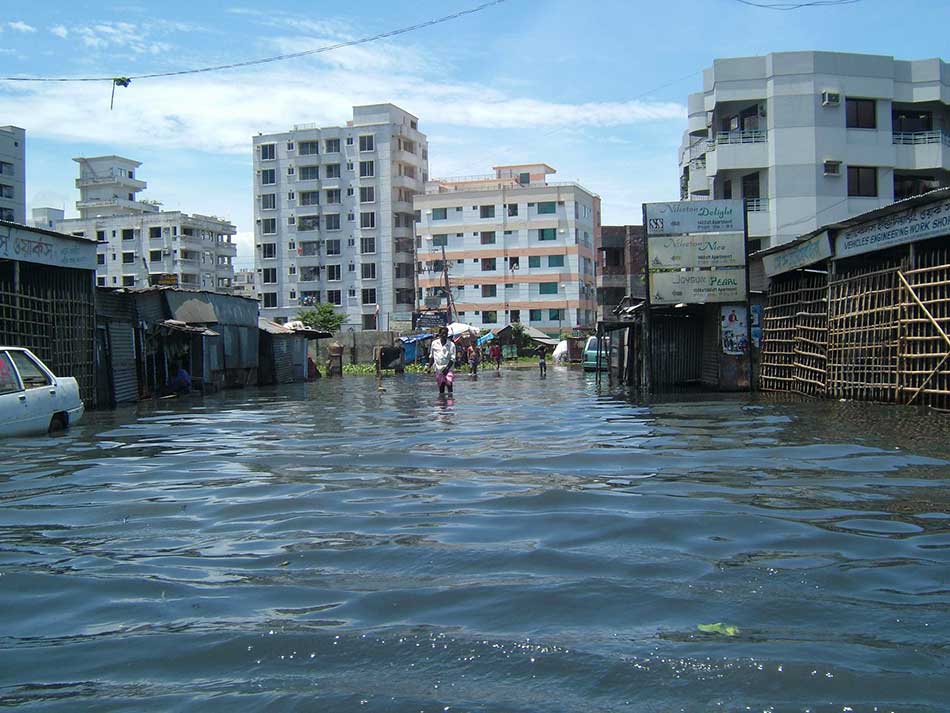 The impact of climate change is here and how. Random flooding is commonplace and summer heat waves are the new normal. From the US to Australia, from Japan to Germany, climate change the new reality the world is grappling with alongside inflation, political conflict and wave after wave of uncertainty.
In this mix, there is the writing on the wall for readymade garment manufacturing hubs that the continual cycle of flooding and heat waves will have a huge detrimental impact. Analysis by Cornell University's Global Labor Institute and Schroders has stated this could mean not only losses to the tune of $65 billion but also a loss of over a million jobs in this sector by 2030 – bearing the brunt of this colossal damage would be primarily Pakistan, Bangladesh, Cambodia and Vietnam, followed by parts of China, India, Sri Lanka, Mauritius, Myanmar, Thailand and Nicaragua amongst others.
The study included 32 garment manufacturing hubs spread across the world. Researchers mapped the supply chain footprint of six global apparel brands across the four production centers. The findings show workers and manufacturers for all six face productivity impacts from extreme heat and flooding
The realty on sectoral impact
Researchers looked at the climate vulnerable apparel industries in Bangladesh, Cambodia, Pakistan and Vietnam, which collectively represent 18 per cent of global apparel exports, house approximately 10,000 apparel and footwear factories and employ 10.6 million workers. In a communiqué, Angus Bauer, Head of Sustainable Investment Research at Schroders commented: "Rising heat stress and intense flooding represent $65 billion in would be export earnings and nearly one million forgone jobs for key apparel producing regions for 2030, increasing significantly for 2050. These issues pose material risks for brands, retailers and investors as they manifest either through productivity losses, stranded assets or both. This research highlights the urgent need for action. Investors must begin to engage with apparel companies and their stakeholders to ensure they start to measure and address the significant challenges of physical climate impacts on workers and business models. Furthermore, apparel companies must look to partner with suppliers, and work with peers, worker organisations and policy makers to design suitable adaptation strategies that consider the impact on workers. Adaptation planning could have positive returns on investment for the industry and is a critical addition to mitigation efforts."
In the same communiqué, Cornell University's Global Labor Institute's executive director Jason Judd said, "Flooding and extreme heat pose significant risk to every constituency in global apparel production — workers, manufacturers, regulators, investor and brands themselves. But no one is factoring the on-the-ground costs of climate breakdown into their planning. The apparel industry and regulators have mostly framed their climate responses around mitigation issues—emissions, water usage, and recycled fabrics. They are ignoring the climate issues that are dramatically and directly affecting suppliers and their workers now. The Global North's climate nightmares are already in evidence in Bangladesh, Pakistan, Cambodia and elsewhere. Life, let alone work, will become very difficult in these and many other hotspots that apparel brands and retailers depend on for production."
The way forward
Readymade garment factory workers need protection from extreme heat conditions in the work place. Currently nothing exists in place to provide these vulnerable employees relief from constant deluge and rising heat waves. These alarming situations should be given the status of health hazard and adequate investments must be made to protect their lives and lifestyle. In order to deal with the day-to-day costs of climate breakdown, workers need social protection systems in place and living wages.