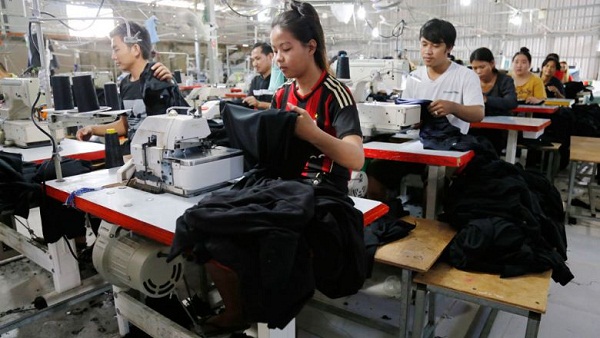 Garment exporters in Cambodia are experiencing a major downturn with Western buyers either reducing or revising orders. Ken Loo, Secretary General, Garment Manufacturers' Association of Cambodia (GMAC) notes, an unstable global environment and possibility of an economic recession in the West have sparked the decline in export orders.
As per the Phnom Penh Post report, labor costs of garment exporters in Cambodia have surged on account of a new pension scheme being launched for private sector workers from October 1 and sectoral minimum wages will be effective from January 1.
Rising logistics and compliance costs add to woes
This double whammy is being further aggravated by other issues like rising logistics and compliance cost, adds Loo. While exports are growing, the net income of exporters have not grown as much due to rise in other costs. Exporters' profit margins continue to remain low as seen from the ratio of value added products to labor-related costs, adds Loo. Only 39 per cent companies made profits last year while 43 per cent reported a loss, points out Loo citing a study by the Japan External Trade Organization (JETRO).
Accelerate policies to restrict downturn
To overcome losses, Cambodian garment companies would need to adopt cost-effective measures, opines Loo. He recommends, Cambodia should accelerate the Garment, Footwear and Travel Goods Sector Development Strategy 2022-2027 to help cushion coming downturn. Penn Sovicheat, Spokesman, Ministry of Commerce upholds GMAC's concerns over the Ukraine conflict and other issues affecting Western countries. These can indeed hamper export orders for Cambodian textile-related products, he adds.
Introduce new FTAs and trade strategies
He urges exporters to opt for nearshoring besides signing free trade agreements with new countries as COVID, the Ukraine crisis and soaring shipping costs threaten to derail trade with more distant markets.
Public and private stakeholders also need to explore new markets and devise new trade strategies, says Hong Vanak, Researcher, Royal Academy of Cambodia.
Besides, stakeholders need to reflect on the investments of Western countries on transportation and encourage manufacturers to step these up, Vanak opines. Cambodia's garments, footwear and travel goods exports grew 40 per cent to $6.6 billion in the first half of this year compared to $4.72 billion reported in the same period last year, shows data from the General Department of Customs and Excise.