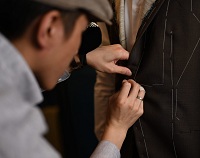 COVID-19 has changed office dress codes forever as tailored suits are a rarity these days. In fact, even before the pandemic, the general trend was towards dressing down. The pandemic further accelerated this trend with Refinery's business dropping by almost 80 per cent during the period, says As Stanton Ho, Co-founder of menswear establishment Refinery.
Low returns compel store closure
In a report in the South China Morning Post, Sian Powell writes, the decline of tailored suits has compelled Ho and his partners to close their bespoke tailoring store in Hong Kong and shift focus to online business and flagship store in Tsim Sha Tsui. The company generates almost 95 per cent of its business from local market that is currently hit by Hong Kong's strict border restrictions and its pandemic related rules.
Like Refinery, 200-year-old US company Brooks Brothers was also forced to close last year due to the pandemic. It plans to re-launch with
renewed focus on casual and leisurewear including knits this year. Parent company of Men's Wearhouse and JoS brands, Tailored Brands had to shut 1,400 stores and file for bankruptcy. The company laid-off 1,800 workers.
Similarly Aoyama Trading, Japan's corporate apparel manufacturer, had to close 130 stores and restructure 400 of them. It also had to layoff hundreds of employees like its contemporaries Konaka and Haruyama Holdings. The government's drive to promote casual office wear has depressed the demand for tailored suits in Japan.
New office wear trends emerge
Chinos, jeans, shorts and T-shirts have emerged as the new office wear with casualwear increasingly being accepted as official dress code by consumers. Accelerated by the pandemic, this global shift to casual wear has been under way since the last few years. World War I made men's fashion more practical with knee-length waist coats giving way to short jackets. Standard tailored business suits dominated people's minds for decades before COVID-19-led disruptions ushered in a new era of relaxed dressing.
Yet, Roshan Melwani, Managing Director, Sam's Tailor opines, the power and identity provided by a suit cannot be dismissed so easily. Operational since 1956, the establishment has several celebrity clients including the former US president Bill Clinton, politician Sarah Palin, film star Russell Crowe, singer Rod Stewart and former tennis star Boris Becker.
The store has launched a DIY online fitting service for clients unable to attend personal fitting sessions. The service works well for customers as it enables them to return their garments incase of inappropriate fittings. Sam's Tailor gets six to eight clients enquiries every day. The store is confident of business returning to normal in future.
Easing restrictions to make suits more casual
Dean Cook, Head-Menswear, Browns, also believes, demand for well-made tailored suits and separates will continue to grow even if the demand for formal shirts and ties declines. The brand recently launched a made-to-measure tailoring service in partnership with Ermenegildo Zegna to create more separates. Cooks also predicts a future rise in demand for travel suits and casual suits that can be worn easily. He witnessed this trend particularly at the menswear trade show Pitti. The general trend witnessed during the show was for less structured tailoring, he adds.
The formal suit is here to stay, says Melwani who holds border restrictions rather than changing tastes responsible for the current slump in tailoring. Its demand will resurge as pandemic restrictions ease and life returns to normal.