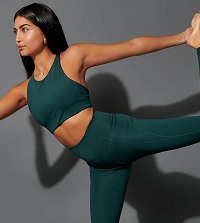 With lockdowns increasing demand for activewear, there has been 80 per cent rise in use of recycled polyester since 2019, says a report by The Gaurdian. A recent McKinsey & Company survey also finds a 151 per cent rise in search for sustainable activewear while 67 per cent consumers were seen scouting for clothes made from sustainable materials. This has encouraged brands like Adidas and Reebok to replace all virgin polyester (PET) in their collections with recycled polyester (rPET) by 2024. Asics also aims to achieve this by 2030, while Puma plans to scale up its use of recycled polyester to 75 per cent by 2025.
Recycled polyester is often described as polyester made from plastic waste like water bottles and discarded textiles. However, most of the recycled polyester, available today, is made from downcycled plastic. Francois Souchet, Ellen MacArthur Foundation, affirms, this polyester is removed from the closed loop system and retains the dye color from first iteration. Hence, it can only be recycled into similar colors.
Chemical recycling can help overcome these problems by breaking down the polyester to its raw materials,
purifying it and converting it into new particles. Removal of all contaminations and dyes can facilitate its recycling on a loop. However, its availability at a viable commercial scale remains limited.
Need for large-scale recycling programs
Cyndi Rhoades, Founder, Worn Again Technologies, has launched a pilot plant in North England to separate cotton and polyester fibre blends, capture the cellulose for other applications and recycle the polyester to be spun into new fibres. Her firm aims to use virgin resources as inputs to cater to the demand for new polyester. She advises brands to improve their infrastructure for collecting and sorting post-consumer textile waste to meet this demand. For this, brands need to invest in large-scale recycling programs to increase collection rates besides technologies that can detect fiber content and process high volumes of textile waste.
New technologies for textile recycling
Currently, segregating textile fibers for recycling is a manual process. However, Seattle-based textiles innovations company EVRNU, has developed a technology that can accurately identify and scan fibers using artificial intelligence. Christopher Stanev, Co-Founder and President, ERVNU, cellulose from cotton can be used to extrude fiber with the same or better performance. In contrast, a synthetic garment sheds millions of plastic microfibres during its washing process. These plastic microfibres could accumulate to 22 million tons by 2050.
The National Plastic Plan, announced in Australia recently, aims to instill microfiber filters in all residential and commercial washing machines by July 1, 2030. Eco-activewear brand Patagonia has also identified wastewater treatment plant that can filter 65-92 per cent microfibres release. However, Souchet suggests creating new fabrics to limit the release of microfibers.
But, this needs highly evolved systems for collecting and sorting waste and creating chemically recycled polyester. The McKinsey report opines, this technology is several years away from being launched. It advises the industry to reduce its reliance on polyester by decreasing production and discouraging over-consumption.