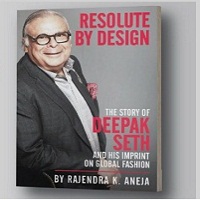 Celebrating the release of the book, 'Resolute By Design,' Rajeev Masand, President, Clothing Manufacturers Association of India (CMAI) felicitated its author Deepak Seth, Chairman, Pearl Group of Companies for his tremendous growth from a small time garments exporter to a global conglomerate spanning over 22 countries and production facilities across the world.
The book has been written by journalist Rajendra K Aneja based on the experiences shared by Deepak Seth.
Expanding group operations
A non-executive chairman of Pearl Global, the listed subsidiary of the company, Seth has over 31 years experience in the apparel industry. He has been responsible for expanding the group's operations to 12 countries across the world including Hong Kong, Bangladesh and China. Seth also set up Pearl Group's new manufacturing units in Bangladesh and Indonesia besides acquiring existing businesses in the US. He was a member of the Apparel Export Promotion Council from 1990 -1993 and was inducted as the Executive Committee as a special invitee.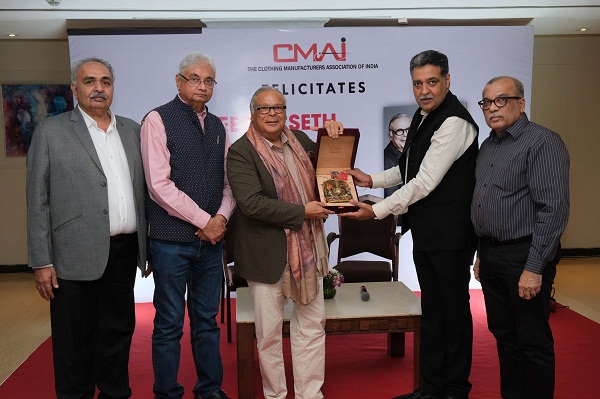 Starting operations with a small order of 6,000 pieces in 1976, the Pearl Group has since grown into a global conglomerate shipping over one million garments every day. The group's current turnover is $1.5 billion (Rs 12,000 crore) which it aims to increase to $2.00 billion in the next three years. Its achievements remain unparalleled amongst Indian garment companies.
Business acumen an inspiration
Attended by CMAI members, the felicitation program included narration of stories and anecdotes from Seth's 45-year journey in the industry. It focused on the lessons learnt by Seth over the years. The event was a commemoration of Seth's single-minded focus on his goals, his untiring efforts, initiatives to improve workers' productivity and his instillation of trust, transparency, equity and ethics in his company's operations.
The felicitation program also included an informal interaction between Seth and Rahul Mehta, Chief Mentor, CMAI, both alumni of the Jamnalal Bajaj Institute of Management.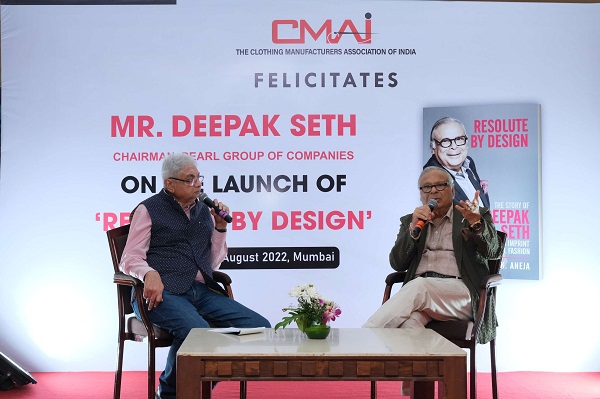 Interesting 'takeaways' of the interaction
Few of the interesting points that were discussed during the informal interaction of Deepak Seth with Rahul Mehta like Seth feels that benchmark or cut off point of an entrepreneurship could be perhaps around 500 machine capacity as it is possible to manage personally but above that capacity one should ideally look at engagement of the professionals to have a stable growth.
Seth explained that he has always been very keen on looking out for any opportunities of partnership where they could improve including investing in any startups if useful technology is involved.
Talking about productivity of the workers, Seth observes that culture everywhere is different but workers are the same but it is how we train them and how we take work from them. He feels supervisors and middle management is week in India, in south there's no hunger for overtime whereas in north the migration workers work slowly during daytime to get overtime. If you set up the right team of supervisors and middle management, Indian work force is also not bad. On the other hand, Bangladesh workers are very committed; they work for 12 hours/day, hungry to do overtime. In our Vietnamese factory for our factory of 1000 machines, we manage with only 1500 work force, whereas we may need 2000 or 2500 people here in India, there's no alteration or defect there's no quality issues for the products cut, manufactured and packed in our Vietnam factory. The workers there are quite educated and feel guilty if fault is found. In Indonesia, we make very high quality garments.
The interaction highlighted the management philosophy of Pearl Group's organizational culture and business philosophy that has inspired the Harvard School of Business to study it as a case study.