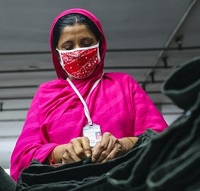 The European fashion industry is again being held at ransom by another wave of COVID-19 that is threatening brands with fresh order cancellations Though less frequent than they were in March, cancellations are coming faster as brand partners are choosing to act early, says Hilmond Hui, Vice President, PFGHL-a Hong Kong based fashion group. And as per a Business of Fashion report, brands cancelled worth billions of dollars during the first wave of the pandemic. Their actions were corroborated by localized outbreaks forcing garment factories to shut operations. As a Centre for Global Workers' Rights (CGWR) and Workers Rights Consortium report indicates, around 3.5 million garment workers either lost their jobs during the period or had to take pay cuts.
An existential crisis for manufacturers
The second wave threatens to deepen the crisis by further exposing the fragility of the garment supply chains,
believes Professor Mark Anner, Director, School of Labour and Employment Relations, Penn State University and Director, CGWR. It has turned the industry's pre-existent triggers into an existential crisis for many manufacturers.
For instance, it has extended suppliers' payment time from 60 days on an average to 77 days after shipments, indicates CGWR and Worker Rights Consortium research. Manufacturers are forced to wait for as long 120 days to receive payments or have to pay out of their own pockets for the fabrics required to produce orders. This increases the chances of many supplier factories going out of business.
Manufacturers face liquidity crisis
With brands cancelling pre-confirmed orders, the pandemic has aggravated liquidity crisis in the industry, forcing many retailers to go bankrupt. And to avoid being stuck with unsold inventories, brands are placing orders at the last minute leaving suppliers with fewer orders and faster turnaround speeds for less money and uncertain payment terms.
Suppliers are not in a position to negotiate as their prime objective is to pay their workers, point out manufacturers. By October this year, 56 per cent suppliers had produced orders below their production costs, notes a CGWR and Worker Rights Consortium's survey. Brands that had assured of compensating for finished orders are refusing to commit to large orders. If this situation continues, 57 per cent manufacturers may go bankrupt, the survey predicts.
Hence, brands need to ensure their workers are paid, emphasizes Christie Miedema, Campaign and Outreach Coordinator, Clean Clothes Campaign. Though major fashion companies have committed to protect their workers, many manufacturers are yet to receive payments owned by brands. They believe, only external regulations can help fix the problem.