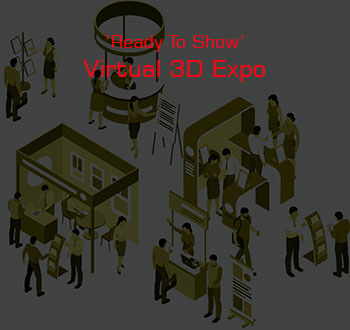 "Due to global pandemic, the year 2020 will see a massive drop in travels, a digital platform that can facilitate the same trade relations and business networking will be a boon for the industry."
So given all that 'Ready To Show Virtual 3D Expo' a global 4 days of high season exposure and visibilty to be held on Oct.,6-9th 2020. Organised by Tortona Design & Fashion Italy 'A veteran organiser in Textile space'. A fair characterised by 'For Itaian & Europian Buyer in the glorious past'. A unique platform mainly for NON-EUROPEAN producers, Ready Made Garments of all kinds, Fashion accessories like Shawls, Scarf, Stoles, Fashion Jewellery and Handicrafts, Fashion and Apparel Fabrics are all expected out of Asian Countries, ASEAN Countries amongst other Geographies notably Mauritius etc.
BOOTH FEATURES FOR EXHIBITORS ARE ALL NEW AGE WHAT VIRTUAL EXPO CAN POTENTIALLY OFFER
Event presents an excellent opportunity to connect, interact and conduct business with buyers, brands & retailers. Extensive promotion of the Virtual Trade Expo through different mediums – web, social, e-mailers and more is very aptly designed aiming at making the exercise business friendly & meaningful.
It clearly has a USP of connecting the exhibitors with 'Selected Buyer' along with all details for each participant, according to the product. It also has pre-arranged B2B Business meetings to make it a wholesome approach.
Additionally features like Webinars & Conferences are all there & in nut shell it is to ensure 'Unique Virtual Experience Is Assured' and surprisingly all this comes at a very affordable price intended to support trade in these trying times.