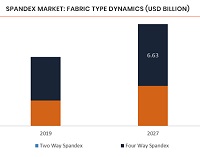 While polyester, nylon, cotton and cotton yarn prices in China grew strongly during December, spandex saw decline after 40 per cent increase in previous months. As per a CCF Group report, spandex prices were mainly affected by a dip in demand and operating rate of downstream mills which varied from medium-to-high during the year.
Covered yarn dominates spandex application
Accounting for 30 per cent of total demand, covered yarn remained the biggest application area for spandex during the year. Though the operating rate of air covered yarn plants and cotton core-spun yarn moved down slowly, it remained high at 80 per cent. Air covered yarn also snatched some of the market share of conventional covered yarn which enjoyed a stable market share in low-end socks and high-end men's wear fields. High-end conventional covered yarn mainly used branded spandex and produced according to orders.
Affecting the operating rate of circular knitting plants
Circular knitting market was the second highest application area for spandex in 2020. The operating rate and orders of circular knitting plants declined from September-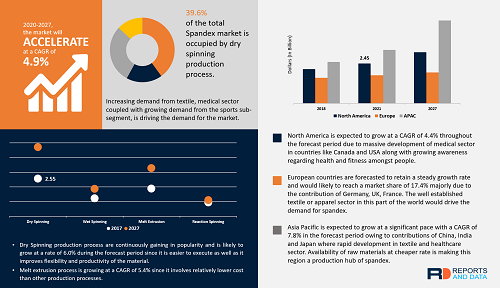 November after they delivered thick fabrics and fabrics for sportswear and sweaters. In December, the operating rate of these plants dipped further after they produced fabrics for yoga cloth, plain fabric, milk yarn and rib fabrics. However, production of fabrics for Roman fabric, sweater and winter sportswear gradually reduced further affecting the operating rate of these plants. Moderate demand from warp knitting plants
Demand for spandex from its third largest application area - warp knitting market was moderate. Operating rate of warp knitting plants remained at 70-80 per cent while orders declined slightly in Guangdong and some other plants. Most of these plants produced fabrics for yoga cloth, sportswear and swimwear etc. Over 50 per cent of warp knitting plants produced fabrics for spring and summer wear in 2021. Low-end warp knitting plants from Haining, Zhejiang and Changshu, Jiangsu, operated at above 80 per cent of capacity. Consumption of Spandex 40 D increased in Haining, Zhejiang and Changshu, Jiangsu. However, the operating rate of these plants declined rapidly after peak-season.
Sharp fluctuations in lace knitting and braid market
Prices of spandex for ear band of mask experienced sharp fluctuations in the first half of 2020 with many companies over-producing 140D spandex for the lace knitting market. As lace knitting fabrics are mainly accessories, sellers ended up with bigger decrement of 140D/210D than 40D in December.
Operating rate of braid mills declined in December as orders diminished. Demand for spandex slowed down with orders for spandex 140D for ear band of mask also dipping. Meanwhile, the demand for spandex 70D and 40D for ear band of mask sustained.
The Chinese population is expected to be more mobile during the upcoming Spring festival holiday in February. This may affect the resumption of spandex production already suffering from the effects of the pandemic. Market players expect spandex prices to rise with loose monetary worldwide. Some of the downstream fabric mills have advanced their production of light which will support demand for spandex in short run. As current spandex stocks are low, their prices may vary. Manufacturers may offer slight discounts on large orders, which may help stabilize prices of seasonal goods.