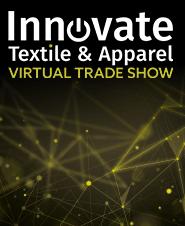 Venue Address: Online
Oragniser: World Textile Information Network (WTiN)
Website: https://vts.wtin.com
E-Mail: This email address is being protected from spambots. You need JavaScript enabled to view it.
Tel: +44 113 309860
City: Leeds, UK
Industry: Textiles, Apparel
Date: 15-10-2020 ~ 30-10-2020
PREVIEW: WTiN is organising Innovate Textile & Apparel, a virtual trade show, which will run on 15-30 October 2020, will provide an opportunity for companies from across the globe to showcase innovation in manufacturing technology and materials, while respecting travel bans and safety measures.
The exhibitors can participate under 2 main innovation halls segmented as follows:
1. Technology Innovation Hall: Fibre & Yarn Production, Weaving, Knitting, Embroidery, Dyeing & Finishing, Printing, Nonwovens, Apparel, Testing, Software
2. Materials Innovation Hall: Fibres, Chemicals & Dyestuffs, Fabrics, Apparel, Sportswear, Nonwovens, PPE, Technical Textiles, Smart Textiles
As well as a rich exhibitor list, including some of the biggest names across the industry, the trade show will also be home to an expansive range of content such as conference area is curated with over 100 presentations, daily live roundtables, audience can also take the discussion further by creating a live thread where anyone can participate, not just speakers, in a bid to open-up debate and stimulate more discussion points and the opportunity for further networking and interaction. ITA's gamification feature that WTiN calls 'Engagement Points' (EP) encourages participant engagement in all aspects of the trade show and win exciting prizes.
Visitor registration: https://vts.wtin.com/register