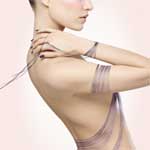 Interfiliere Hong Kong took place on March 27 and 28, 2018 showcasing innovations and high quality materials. Surrounded by the breathtaking scenery of Kai Tak Cruise Terminal at the heart of Victoria Harbour, the show kicked off with an opening speech by Angie Lau, Chairlady of Hong Kong Intimate Apparel Industries' Association (HKIAIA), Hon. Felix Chung Kwok Pan, member of the Legislative Council of HK (Textiles and Garment constituency) and Marie-Laure Bellon, CEO, Eurovet. The show was praised for the courageous and pioneering decision to take this curated industry event a step further with new insights, generating fresh dynamics by welcoming professionals and experts from fashion industry and beyond, and synergising with advanced technology in facilitating an innovative way of exchanging business and ideas.
For the 12th edition, and the 2nd under its new curated format, Interfiliere Hong Kong presented diversified and premium exhibitors from 75 companies and registered a year-on-year growth of 15 per cent. Companies from Mainland China made up 63 per cent of the exhibitors, European companies accounted for 15 per cent followed by Hong Kong with 9 per cent, and the remaining proportion was respectively taken up by companies from other Asian regions and rest of the world. The quality of offerings was consistently high level, thanks to the contribution of exhibitors and the Selection Committee. There was a vast range of exceptional materials and technology, such as velvet lace, natural, sustainable and super technical laces, a new generation of silicone pads, elastics with unique effects and compression colour film.
The show welcomed 1,600 visitors over the two days, and witnessed a substantial growth surpassing the organiser's objective by 33 per cent. Hong Kong represented 50 per cent of the visitors followed by Mainland China with 34 per cent. Visitors from rest of Asia accounted for 9 per cent whilst rest of the world contributed 7 per cent. Notably, there were new visitors from Austria, Bangladesh, Brazil, Macau, Myanmar, Singapore, Slovenia and Switzerland. The strong attendance of international buyers with diversified profiles has proven that Interfiliere Hong Kong is a place-to-be in Asia where pursuit of material sourcing, technical solutions, business connections, trend forecasting, innovation and inspiration can be fulfilled.
Newer offerings
Launched in 2017, the Gallery has become a new feature exclusively organised at Interfiliere Hong Kong. Nearly 428 pieces of finest product samples pre-selected by the steering committee were displayed at the Gallery. Each company panel was equipped with a Poken touchpoint allowing visitors to collect information of their favourite samples. This was an absolute art of ingenious design, which has visually impressed the visitors, and a showcase of craftsmanship as well as technology that has been tactilely experienced and sparked inspiration.
Standing at the heart of the show, The Creativ' Lab was designed to demonstrate the evolution, in collaboration with Interfiliere exhibitors by presenting fabrics, prototypes and global collections, revealing color moods for A/W 2019-20 and responding to the significant change of the lingerie world. Featuring Nature Moves Us, the Creativ' Lab put a major attention on the dwindling natural resources on the planet, together with industry experts Xiao Lu Liu, founder & CEO, NEIWAI; Nancy Chang, COO, Clover Group; Jeroen Jacobs, global sales director, Eastman; Federica Annovazzi, design director, Iluna; Amy Lee, head – global retail & channel partner management, Lenzing and Sanko, in quest of concrete solutions and ideas.
Knowledge dissemination
The show presented the tracks of conference delivered by keynote speakers focusing on economic and retail market overview, sustainability, trend forecasting and activewear. The global body fashion industry has been enriched with tremendous opportunities brought by technology advancement and unprecedented innovations, and yet vulnerable shaken by complex variables, from global economic and political fluctuations, escalating environmental issues, emerging market conditions to constantly changing consumer behaviours. Throughout the full schedule of conference, under a vibrant ambience of interactions and brainstorming, audiences actively raised their puzzles and seek for insights and inspiration from the speakers, especially young designers and brands who have found the enlightenments on how to (re)position their concepts and products to be in line with the global trend.